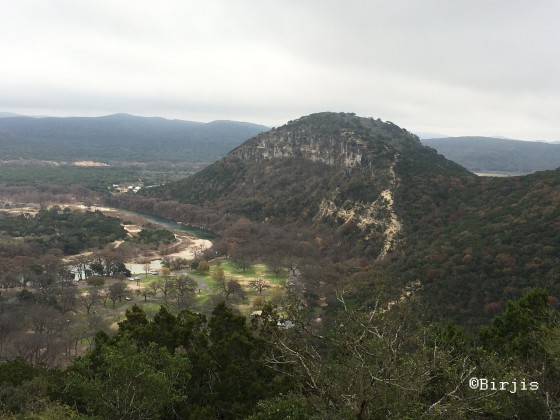 Nestled in the beautiful rolling hills of Texas besides the flowing Frio River is Garner State Park.   The wide expanse of the park is a beautiful landscape of hills and a wide terrain of land and river.
Just about three hours driving distance from Austin, the park in Hill Country is perfect for a getaway weekend or relaxing spring break destination or even a winter weekend retreat. No kidding, we went here in the pleasant weather of December. After all, we live in Texas and Hill Country has great weather. The 1,774 acres  park has beautiful breathtaking scenery with miles of hiking trails with spectacular views;  comfortable  log cabins and  camping options, access to  Frio river which winds through the park for water activities and is an awe- inspiring beauty of Texas.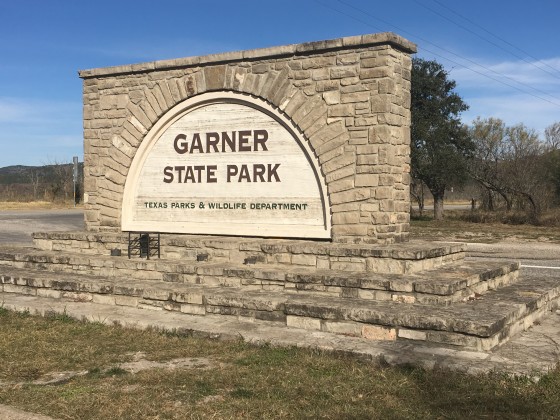 Trails and Hiking Tours:
http://tpwd.texas.gov/publications/pwdpubs/media/park_maps/pwd_mp_p4507_0061q.pdf
The sprawling landscape of deep canyons, crystal-clear streams, high mesas and carved limestone cliffs characterize this dramatic terrain. And hiking on this beautiful trails with incredible views is a fun and enjoyable adventure for the legs and eyes, body and soul!
You don't have to climb every mountain if you are not comfortable doing challenging hikes. This park had hikes with every level of difficulty parameters marked. There is easy, to moderate, and challenging hikes. There is every kind of terrain to climb according to your adventure levels. My family is very adventurous, and into challenging hikes and wanted to do it all. I can be adventurous, but not the most enthusiastic mountain climber. But I found the challenging hikes fun, doable and easy  when we were led by the 'Park Ranger' on  the hike in a large group. I highly recommend you check the activities and events of the day when you check into the park and do the hike trails with the ranger. Especially your first hike, it makes all the other hikes possible 😉
When you are on top of the mountain, it's an elation of all kinds, the reward of achievement and strength, the reward of beauty and the reward of the climb to connect with the world! On the mountain the cellular service is available and perfect to check your messages, emails and social media. At that height your cell service is working especially if you are Verizon and Sprint customer. While AT &T service is paradoxically working in the park on ground level.
Our favorite hiking trails were the Crystal Cave Trail, where we actually entered into a crystal cave end of the trail; Bridges Trail with spectacular views; The Old Baldy Trail with more amazing views. The easy trails are Old CCC entrance road and the Blinn River Trail which was a scenic stroll along Frio River.
 Fun on the Frio: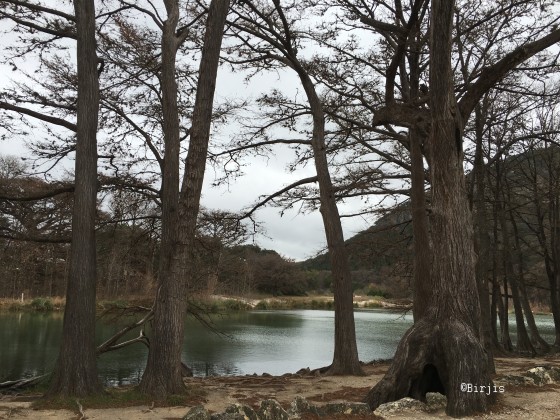 You can swim in the cool Frio River, float on its waters in an inner tube, paddle boat, canoe, or fish in the river. Fishing equipment and other equipment like inner tubes etc are also available to rent.
Cabins and Campsites: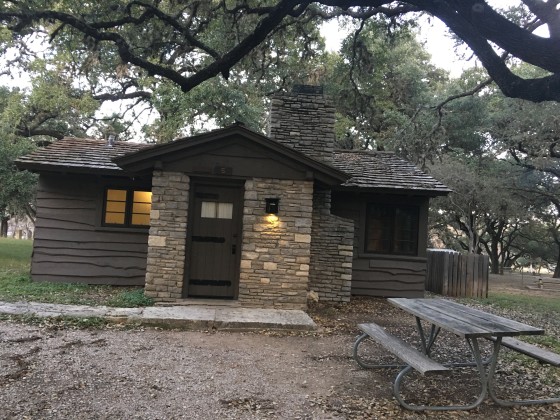 The park has great options for overnight stay. According to the weather and adventure levels you can book a cabin, or screened shelters or pitch a tent in the many campsites available.
All cabins are cute and cozy and  have  central heating/AC  with a kitchen, bathroom, a living area and bedroom.  There are options of cabins with or without fire place, just like camp sites with electrical connection as option.  The cabins also have their own parking space provision and an outdoor fire pit and picnic bench.  The beds come with mattress where you have to get your own sheets, pillows and blankets.  Since this is not a fancy hotel but a park cabin, its good to sleep with your own pillows;) The kitchen comes with a fridge, stove, oven and microwave but you have to get your own utensils if you want to do some cooking.  The bathroom comes with toilet paper, but get your own shampoo, conditioner and hand soap. It's a good idea to get lanterns and torch lights if you want to stroll around in the late evening, since it can get very dark.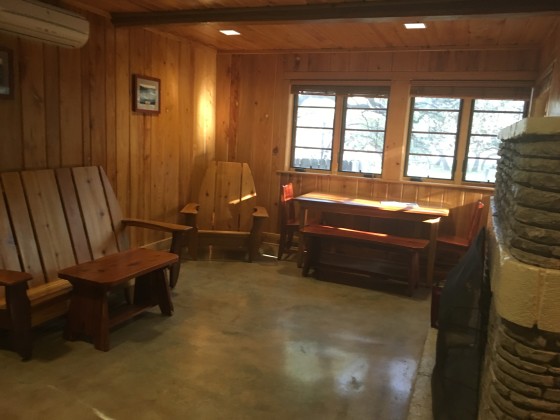 According to the weather, you can get some firewood for the outside pit and inside fireplace. We had quite an adventure with our fire place almost triggering a smoke alarm since we had not opened the chimney unit!
Pack some cards and games to occupy evening time. When it gets dark, especially in the winter, its good to huddle in with games and family time.   There is no TV or Wifi option which is great for some non-electronic fun!
http://tpwd.texas.gov/state-parks/garner/fees-facilities/cabins
Making of the State Park:
The Park has a history of its own too. It is named after former Vice President John Nance Garner, from the local hill country, Texas.   The major part of the Park, concession buildings, dance pavilions, the cozy log cabins and other park facilities were built by CCC- Civilian Conservation Corps
CCC were the corps created by President Roosevelt to provide employment opportunities for young men around the depression years in the 1930's. CCC were involved in building and developing many state and national parks, rehabilitating forests and controlling soil erosion.
Activities, Events  and Traditions: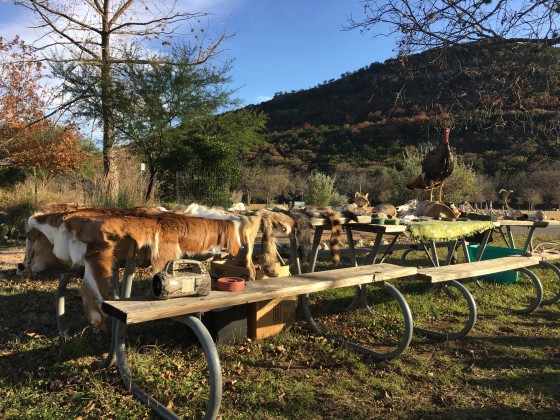 When you check in the park, check out all the activities, events happening on the days you are lodging in the park. There are regular events like hiking with the ranger, or informative presentations about wild life, or fishing lessons, scavenger hunts, or painting by the lake with your canvas in a group.
The park also continues with its traditions of juke box dancing on the pavilion. Keeping alive an old tradition which started in the depression era days, the park opens up every evening to summer dancing in a pavilion in front of the concession building. If you are going camping in the summer this is an additional fun event.
Food and Sundries:
The parks Concessesionare sells food, snacks, coffee and souvenirs and stuff if you have forgotten to bring somethings for camping. Equipment rentals are also available during busy season. There is a small restaurant in the park too which is open in busy season.
In Winter,a non-peak season, the restaurant was closed, but there was stuff in the concessionarre if needed. We really didn't need to get anything here, except for coffee on the day we left, since our stuff was all packed up;)  With previous camping experience, we had packed enough food and goodies, like Overnight Oats for  healthy and filling breakfast; Nut filled Magic Bars for snacking during the day;   Kabaab rolls with Naan; Lemon rice and boiled eggs for lunch and dinner options and of course beef brisket from Cranky Franks. We didn't forget milk, instant coffee, tea and sugar to not miss out on important caffeine while camping. We definitely used and enjoyed the well equipped kitchen in the cabin.
.
On the Way or Around Garner State Park:
Around Garner State Park there are few other Texas parks like the Hill country, Lost Maples, Devils Sinkhole and  Kikapoo Cavern state park which you can check out for more scenic hikes with the same park entrance ticket;)
On the way to Garner if you want the whole Texas feel, stop by for BBQ pit stop at the famous Cranky Franks BBQ in Fredericksburg. Located just one and half miles south of Main Street on highway 87 is Cranky Franks. It's was a perfect break half way between Austin and Garner State park. We enjoyed succulent beef Brisket and packed some more to enjoy later in the park!
On the way back too you can stop by in the beautiful and quint town of Fredericksburg for dining, shopping or another hike up the enchanted rock.
If you are making plans to camp or lodge you need to reserve early as the cabins get booked fast and so do the camp sites in busy season. Enjoy your stay, we definitely did and plan to go again and again.
Garner State Park
234 RR 1050
Concan, TX 78838
(830) 232-6132
Reserve by phone: (512) 389-8900
Pricing :
 Park Entrance fee: Adult Day Use: $7 Daily;Child 12 Years and Under: Free
Cabins With Fire place: $150 nightly with daily entrance fee
Campsite with water and electricity: $26 nightly with daily entrance fee
Screened shelter:$35 with daily entrance fee