Learn how to cook new recipes and enjoy the experience of learning new cuisines. You will get to understand and discern between spices and flavors, learn the right techniques while you savor the art of cooking Indian food.
The classes will be hands on to people of all skill levels, beginner to experienced.
Classes are conducted in small groups by appointment in my kitchen. Also classes are conducted at different locations. Birjis Adeni Rashed is a regular culinary instructor at Faradays Kitchen  and teaches Indian Cuisine in their kitchen too.
Culinary tours are also conducted by appointment to understand the exotic spices, their uses in your kitchen and their holistic benefits in your daily life and helping  stock up on the essential ingredients of Indian cooking.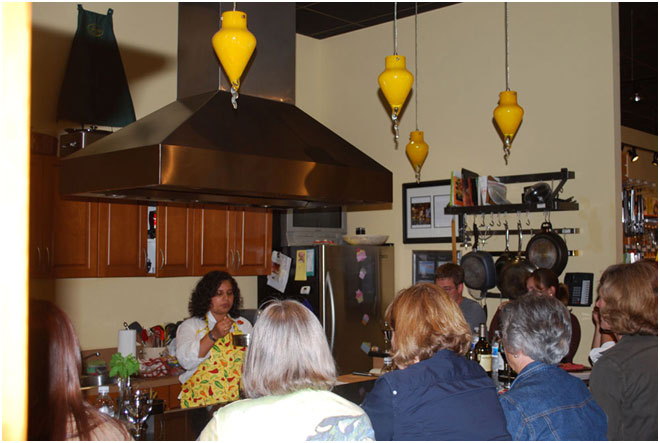 Contact Email: Birjis@Hotsweetspicyrecipes.com
Cooking Class @Birjis's Kitchen- April 11, 2016
Come and Experience the exotic spices of Indian Cuisine, learn how to cook with them and enjoy the feast.
CelebrASIA Austin: An Asian Pacific American Food and Heritage Festival-Battle of the Asian Food Trucks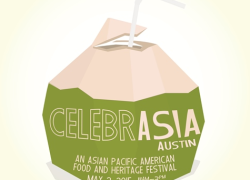 on Saturday, May 2, 2015 from 11 a.m. to 3 p.m. at the AARC,
Battle of the Asian Food Trucks featuring the theme ingredient: coconut.The Competing Food trucks are :Kung Fu Kitchen- Vietnamese street food truck;
Oyama-Japanese Fusion Truck;Thai 2 U-Thai food truck; and Chaat Shop- Indian Street Food truck
The Judges for this year's food truck battle are:Rob Balon of Dining Out with Rob Balon- Austin's veteran Food Critic; Armando Reed, Host, TLC Asia shows "Fun Taiwan", "Armando's Asian Twist"; MM Pack, food writer, historian,The Austin Chronicle; Foo Swasdee, chef, owner of SATAY Restaurant; Jae Kim chef and owner of Chi'Lantro
Birjis Adeni Rashed, food writer, HotSweetSpicyRecipes
South Indian Cooking Class- May 1, 2014
A Culinary Tour of Popular South Indian Recipes.
Our Menu today: Medhu vada (Savory donut-shaped lentil snack), Idli (steamed rice cakes), Dosa (lentil and rice crepes), Coconut Chutney, Sambar (lentil daal with vegetables and spices), Aloo Palya (potato curry used in Masala Dosa stuffing), Pulihara (lemon rice with seasonings and peanuts) and Mango Lassi.

Women Who Cook Nov 10, 2013, 5.30 to 8.30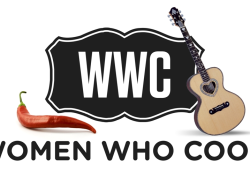 "Women Who Cook" simmers up Sunday, Nov. 10! The event features a tasting by several notable Austin chefs including chef Allison Jenkins of laV, National Pie Champion Jaynie Buckingham of Cutie Pies, chef Michelle Doyon of Michelle's Patisserie, food writer Birjis Adeni Rashed and Beets Cafe's Sylvia Heisey, deliciously fun music by Lex Land, Erin Ivey and her band, and the Austin Girls' Choir
Cooking Demo @ William and Sanoma: May 5,2013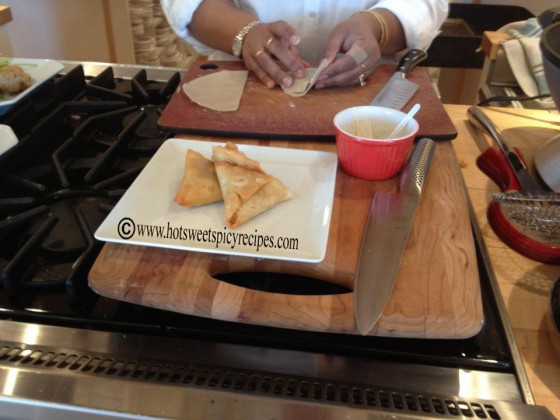 Samosa Demonstration-  Learn the art of making a samosa.
Samosas: These are triangular or tetrahedral shaped crunchy savory pastries which are stuffed with spicy potatoes and deep fried to golden brown.  These Potato turnovers or samosas can be served as snack or appetizer with mint chutney or hot-sweet chutney or tamarind chutney.
Classes at Faradays Kitchen Store

Wednesday April 10th, 2013
6pm to 8pm
Spicy Indian Curry Feast with Chef Birjis Rashed. You'll love Chef Birjis's knowledge of exotic spices and flavors, and the meal will rival the best Indian restaurant in Austin. Menu for this demonstration class includes: Pakoda (Deep Fried Onion Fritters), Spicy Shrimp Curry in an Onion and Tomato base with Spices, Basmati Rice with Spices and Dry Fruits, and Sooji Halwa – An exotic Indian dessert made with Semolina, and garnished with Dry Fruits. The cost of this class is $49 per person.
***
Wednesday, September,19th, 2012
6pm to 8pm
A Tour of India Cooking Class on Wednesday, Sept. 19th
A Tour of India Cooking Class on Wednesday, Sept. 19th After spending a good portion of the summer in her home country, Chef Birjis Rashed returns refreshed, and inspired by the open-air marketplaces she visited to bring us a Tour of India Cooking Class on Wednesday, September 19th from 6 to 8 pm.
Menu for this spicy and exciting class includes: Crunchy Samosas, stuffed with spicy potatoes, deep fried to golden brown; Butter Chicken Masala- a popular delicacy made with boneless chicken, marinated, grilled and cooked in masala sauce; Naan bread; Fragrant Basmati Rice Palav cooked with spices and herbs; Raita (Yogurt chutney with onion, peppers, cucumbers, and herbs); and for dessert, Kheer Rice Pudding made with milk, rice and dry fruits.
If you haven't been to one of Chef Birjis's classes yet, be prepared for a culinary feast better than any restaurant around! The cost for this class is $49 per person.
http://faradayskitchenstore.com/cooking.html
***
Wednesday, February 15th, 2012
6pm to 8pm
http://faradayskitchenstore.com/cooking.html
Enjoy a culinary tour of India with Chef Birjis Rashed!
Menu includes:  "Gobi 65" Spicy Cauliflower Fritters; Goat Kadhai Curry; Palak Paneer (Spiced Spinach and Cheese); Naan (Indian Flatbread); and for dessert, a cool and refreshing Mango Lassi. The price for this class is $45.
***
http://faradayskitchenstore.com/cooking.html
Wednesday, September 29, 2010
6 pm- 8 pm
Chef Birjis Rashed will be preparing a tantalizing menu of her favorite dishes from India.
Dishes to be prepared include: Onion Pakodi- Deep fried onion fritters; Lamb Chops cooked in a Curry of Black Pepper, Green Cilantro and Spicy Jalapenos; Peas Palao- Basmati Rice cooked with peas, herbs and spices; Carrot Raita- Yogurt Chutney mixed with grated Carrot and seasoned with Tadka; and Kheer- a Sweet Rice and Milk-based dessert garnished with dried fruits.  The cost for this class is $45.00 per person.
***
http://faradayskitchenstore.com/cooking.html
Wednesday, April 21st, 2010
6pm- 8pm
Come and experience the Exotic Spices of Indian Cuisine with Chef Birjis Rashed.
Menu includes: Samosas – Crunchy savory pastries stuffed with spicy potatoes and deep fried to a golden brown; Tandoori Chicken – Chicken marinated in yogurt and spices and oven baked to perfection; Zeera Palao – cumin and caraway flavored Fried Basmati Rice; Raita – Yogurt Chutney with onion, peppers, cucumbers and herbs; and Bakhlava – Deliciously scrumptious pistachio and vermicelli dessert squares for a sweet finish. The cost for this class is $45.00 per person.
***
Class  at the Culinary Academy of Austin.

http://www.culinaryacademyofaustin.com/CAOANewSubPortal/FunCookingClasses.htm
Saturday, January 17th
10am – 1pm
Royal Kabobs and the Spices That Make Them!
Instructor: Guest Chef Birjis A Rashed
Have you ever had succulent kabobs at a fancy restaurant and wished you could have had them more often? Now here's your chance! Learn how to make exotic kabobs with simple techniques with guest chef Birjis A Rashed. While making Shish Kabob, Beef Boti Kabob and Chicken Tikka Kabob, you will learn to distinguish various Indian spices and how just the right amount of the right spice can make the recipe unique and authentically delicious.
***