Lemon Rice- Pulihara
This south Indian rice dish is served either at breakfast, lunch or dinner. Due to its ability to not get spoiled for long stretch of time without refrigeration, it's often used in long distance travel. The Lemon rice is often accompanied by Boiled eggs and Indian mango pickle. Tamrind rice is another variation which is similar to lemon rice.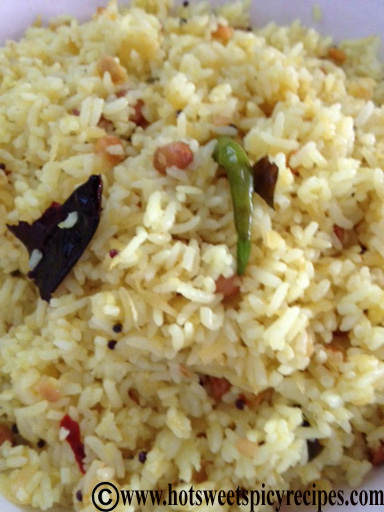 Author:
Birjis Adeni Rashed
Ingredients
3 cups -uncooked Rice
½ cup - Peanuts
2 tblsps- Split Bengal gram/ Chanadal
1 tsp- Mustard seeds
8- Curry leaves
4- Dry Red chili peppers
3- Green Thai chili peppers
½ tsp- chopped Ginger
½ cup- Lemon juice ( add to taste)
1 tblsp- Turmeric
2 tsp -salt
3 tblsps- Oil
Instructions
Cook white rice with a spoon of salt either in a rice cooker or conventionally in a pot and draining out water. After the rice is cooked spread out the rice in a large serving plate or glass baking tray, this process aerates the grains of rice and prevents it from becoming sticky.
Now you sprinkle turmeric on this rice and drip some oil on it. With a spoon gently mix it together to make the rice yellow.
In a pot put some oil and make the seasoning for this rice. First add mustard seeds to warm oil to make them sputter. Next add dry red chilies and curry leaves to this oil.
The peanuts are an important addition to this seasoning. Make sure they get roasted in oil. Raw peanuts don't taste well in this recipe.
Next add some pre soaked chana dal/ split Bengal gram/ split yellow lentil. To quicken the soaking process, soak in warm water or microwave in a cup of water for a minute. The soaking process is to slightly soften this lentil before adding it to the seasoning.
At this point add some slit green Thai chili peppers or one or two jalapenos, slit and deseeded.Also add chopped ginger now.
When the seasoning is ready, add lemon juice and salt, let cook for a minute or two. Don't let it boil for long as lemon juice can turn bitter on boiling.
Add this seasoning to the yellow rice. And gently mix them together. Sprinkle salt or lemon juice to taste before serving.
Notes
Since it uses no onion and garlic in this recipe it is popular menu item in religious Hindu festivals too; This recipe is also popular to use with left over white rice