Texas is a BBQ state, and barbecue is a religion down here.  And this big state offers so many amazing BBQ choices to eat.  To eat good BBQ, we have driven around the state, waited in lines, and traveled to renowned BBQ joints. But not very far in the South of Austin amongst rolling hills is a huge ranch in Driftwood offering mouthwatering barbecue at Salt Lick BBQ.
Salt Lick has been around in Austin since ages and their original Driftwood location has been a famous and popular BBQ destination. If you want to enjoy great BBQ experience, a scenic drive to their Driftwood location nestled in their sprawling gardens and oak trees is a must. The large ranch has their many smokers and barbecue pits including their very unique open pit. It has good Indoor and outdoor seating, a shady patio with live music to keep you entertained while waiting. Picnic tables spread out in the expansive gardens with ability to pitch hammocks between trees, and even a play yard for kids to stay happy waiting for delicious BBQ.
We have eaten here a couple of times and to enjoy the 'experience' Salt lick offers, we round up foodie friends and indulge in a great barbeque affair. Recently when we went to Salt Lick's Driftwood location, we planned our fun day around BBQ, friends, and festival of colors– Holi at the Barsanadham Temple just few minutes away. Have to say, it was a very delightfully delicious and vibrantly memorable day.
When you go here, plan to get cash ahead since this location only accepts cash, but if you don't, there is an ATM machine to get out some last minute. People who enjoy a drink with their barbeque can get their own drinks since they have a BYOB policy. But there is apparently a winery and tasting room where people can buy their wines and beer. If you go on the weekend, you will have a long wait, so you can seat yourself near the patio and enjoy some country music or take the kids to the play yard and grab a picnic table in watching distance and relax and hang out in the company of friends. When the buzzer lights up you can head over to restaurant and be amazed with the open barbeque pit inside and watch the process of basting, glazing, slathering of sauce on big hunks of meat, and barbequing and slicing of the brisket.
The Menu offers Beef Brisket, Beef Ribs, Sausages, Pork, Chicken, Turkey, and vegetable sides. It offers options of family style all you can eat, meat by the plate, combo plates and even meat by the pound. Since we were multiple adults and kids of various ages, the smart way to go about was to order by the pound. We ordered enough beef ribs and beef brisket and side of potatoes, which came with white bread, sliced onions and pickles and sweet and spicy sauces to satisfy all.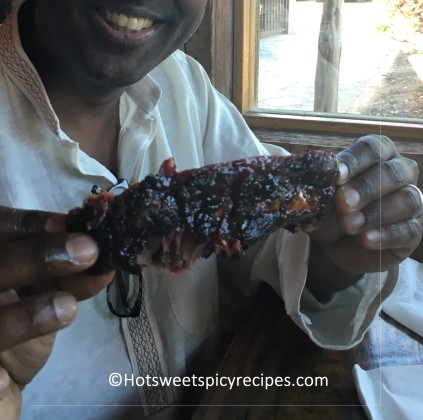 When we ordered the Beef Brisket, we made sure to ask for additional burnt ends which are concentrates of flavor. The brisket was tender and juicy with delicious charred edges, while the glazed beef ribs which are cooked with sauce slathered all over it, tasted great with the meat falling off the bones and melting in the mouth while you pulled it off with your teeth.
The side of potato salad was not favored by any of us but since the focus was all about the meat, the vegetables falling short of flavor didn't matter. To end this amazing barbeque meal, we ordered a whole scrumptious pecan pie with scoops of ice cream which was perfect finale.  The meal was Texas style big, beefy and grand.
Cuisine: Barbecue
Rating: ****
Website: http://saltlickbbq.com/
Location: 18300 FM 1826, Driftwood, TX 78619
Hours monday-sunday- 11am to 10pm
Food Reviewed:
Beef Ribs
Beef Brisket
Barbecue sauce
Potato Salad
Pecan Pie
Ice Cream