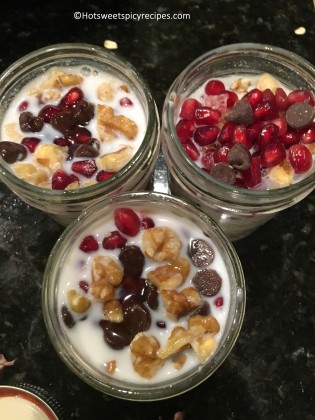 Article Published in The Four Points Newspaper– Writer: Birjis Rashed
Good Morning, wake up to a ready made breakfast! All of us know breakfast is the most important meal of the day, but many of us are scrambling for time in the morning and the last thing on the list is to make or even eat a quick breakfast. While  some of us who do  prioritize breakfast  may be bored of eating eggs or toast every day or  some want to decrease the stress time of packing kids lunches and making breakfast for all in that short span of time in the morning. This amazing overnight breakfast satisfies all.
Overnight Oats are easy to make, can be made ahead and are a power packed wholesome breakfast with all the nutrients and fiber from oats and delicious fixings. This breakfast keeps you full for much longer than other normal breakfast options.
Important elements: I highly recommend 8 oz wide mouth mason jars for overnight oats, since they come with lids you can make it ahead and store in fridge without exposure to other things of the fridge. Also if you are in a hurry in the morning you can take it to-go. We have packed this sometimes for power packed breakfast for camping trips or healthy options in long drives.
Steel cuts oats are better for cooking an oats soup, for overnight oats I prefer normal Quaker oats.The oats and chia seeds swell in liquid overnight and hence add enough milk for it to soak in.
Layer the oats, chia seeds, yogurt, fruit and nut fixings as per your taste. There is no hard and fast rule, everything gets stirred before eating.
Basic Recipe:
1/2 cup of oats
1 table spoon chia seeds
¼ cup almond milk or 2% milk or more
¼ cup Greek yogurt
+ Fixings
Popular fixings: fruits- fresh bananas, strawberries, blueberries, raspberries, apple ; dry fruits- dates, dry figs, craisins, raisins; Preserves like strawberry preserves, orange marmalade, peach preserves; Nuts- Pecans, walnuts, pistachios, Almonds, Macadamia, Peanuts, coconut flakes;  honey, maple syrup, agave, brown sugar, chocolate chips, chocolate syrup, cocoa, cinnamon, vanilla extract and more.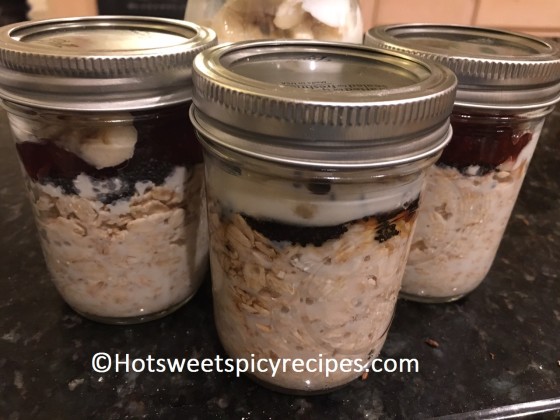 Here's 12 ways to make your Overnight Oats:
Below are few combinations me and my family team at Hotsweetspicyrecipes make and enjoy;)
POM-BON OATS :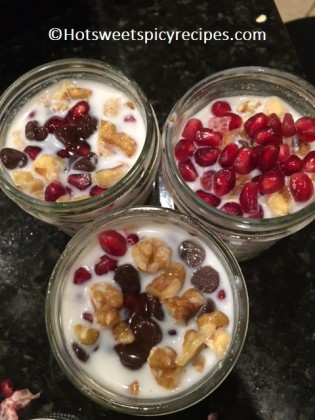 POM-BON Oats :
1/2 cup of oats
1 table spoon chia seeds
¼ cup  Milk or Almond Milk
¼ cup Greek yogurt
1 tblsp Pomegranate or Strawberry preserve
Fresh Pomegranate seeds
Chocolate Chips
Pecans
Pistachios
Banana-Nut Oats:
1/2 cup of oats
1 table spoon chia seeds
¼ cup  Milk or Almond Milk
¼ cup Greek yogurt
Sliced Bananas
Honey
Pecans
Figs and Honey Oats
1/2 cup of oats
1 table spoon chia seeds
¼ cup  Milk or more
¼ cup Greek yogurt
Slices of fresh figs or dry figs chopped
Brown sugar ( with fresh figs, optional with dry)
Honey
Pecans
(The dry figs also expand in milk besides the oats and chia and  taste amazingly delicious so add more milk)
Date Nut Oats
1/2 cup of oats
1 table spoon chia seeds
¼ cup  Milk or more
¼ cup Greek yogurt
4 Mejdhol date slivers
Banana slices
Coconut flakes
Honey
Orange U Nuts Oats:
1/2 cup of oats
1 table spoon chia seeds
¼ cup  Milk or Almond Milk
¼ cup Greek yogurt
Orange Marmalade
Craisins
Raisins
Pecans
Almond slivers
Coconut flakes
 Merry-Berry Oats
1/2 cup of oats
1 table spoon chia seeds
¼ cup  Milk or Almond Milk
¼ cup Greek yogurt
1 tblsp Strawberry preserve
Raspberries
Blueberries
Nuts
Nutty Banana Oats
1/2 cup of oats
1 table spoon chia seeds
¼ cup  Milk or Almond Milk
¼ cup Greek yogurt
1 tblsp Peanut Butter
Banana slices
Pecans
Honey drizzle
Choco-Banana Oats
1/2 cup of oats
1 table spoon chia seeds
¼ cup  Milk or Almond Milk
¼ cup Greek yogurt
Chocolate Sauce or syrup
Banana slices
Chocolate chips
Pecans
Strawberry-Banana Oats
1/2 cup of oats
1 table spoon chia seeds
¼ cup  Milk or Almond Milk
¼ cup Greek yogurt
Strawberry slices
Banana slices
Honey or Maple syrup
Nuts
 Apple Pie oats
1/2 cup of oats
1 table spoon chia seeds
¼ cup  Milk or Almond Milk
¼ cup Greek yogurt
Apples chopped
Cinnamon
Brown sugar
Pecans
Maple syrup drizzle
Banana-nana Oats
1/2 cup of oats
1 table spoon chia seeds
¼ cup  Milk or Almond Milk
¼ cup Greek yogurt
1/3 cup Banana slices
Maple Syrup
Raisins
Pecans
Almonds slivers
Pistachios
Coconut flakes
Mango Lassi Oats
1/2 cup of oats
1 table spoon chia seeds
¼ cup  Milk
¼ cup Greek yogurt
1/3 cup Mango chopped ( when in season)
Honey
Cardamom powder Pinch
Slivered Almonds
Chopped pistachios