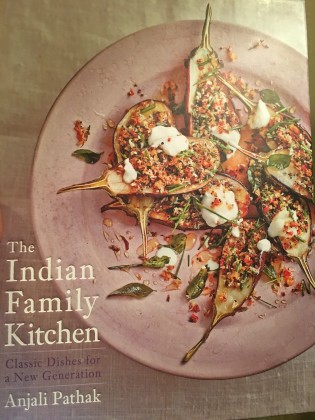 I love books and these days I love recipe books to go through more adventures of cooking, here is a recipe book I got recently. –The Indian Family Kitchen cookbook.
 Fusion Recipe Focused – Anjali Pathak's " The Indian Family Kitchen" Book Review:
"This book isn't for those wanting to learn traditional Indian cooking but for those who love spice flavors characteristic of Indian food and want to show how to use then in exciting and unexpected ways" – The author explains her target audience in her own words.  This cookbook is focused on people who would like to transform their familiar food with a dash of Indian spices and have fusion results.   The book looks great with amazing and colorful pictures of the food and spices.  But if you are seeking an ultimate Indian recipe book, this is not it.
The title of the book "Indian family kitchen cookbook" is a  misnomer.  But  if you are  dabbling on Indian flavors, this book introduces you to recipes for spicing things up.  Besides  its fusion focus  this recipe book is scattered with a mix of both Indian and western dishes,  light salads, Indian spiced meat dishes, few classic Indian recipes,  many everyday western with Indian seasonings and a lot  of spiced up western desserts.
Written by Anjali Pathak, the  grand daughter of the 'Pathak foods' famous for their bottled sauces, curry pastes and chutneys, she has  picture memories of her childhood in this food business family inserted in the book. Because of the food heritage I had more expectations of interesting recipes of authentic chutneys and pickles but it's a recipe book of fusion  food recipes with excellent food pics!
The book does have some interesting recipes which I have marked down to try.  Here is a recipe of Stuffed Sweet Peppers which I followed to make Baked Jalapeno poppers which I love.  The recipe is not really like a gooey Jalapeno Popper full of cream cheese and breading but like a vegetarian version of  stuffed bell peppers with ricotta cheese. It was excellent but since I really want a  'healthy' and 'baked' version of  my favorite jalapeno poppers, next time I may substitute the ricotta  with cream cheese  and try this recipe for different results! Yum.
Stuffed Sweet Peppers
Olive oil for greasing and drizzling
9 oz ricotta cheese
1 fresh red chile
Zest and juice of ½ lemon
1 scallion
2 garlic cloves, chopped
1 tblsp chives, chopped
Pinch  pepper
Pinch salt
1 small naan bread/any bread
1 tbslp grated parmesan cheese
1 tblsp unsalted nuts( optional)
4 peppers preferably Romana cut in half lengthwise. ( I used Jalapeno, Anaheim peppers or bell peppers will work too- Birjis)
Balsamic vinegar( optional)
Method
Preheat the oven to 425 F and grease baking sheet
Make stuffing for peppers by mixing together ricotta, chile, lemonjuice, scallion, garlic, chives, salt and pepper
Make topping by blitzing naan bread or French bread, parmesan, nuts, lemon zest in a food processor
Fill the peppers generously with the ricotta mixture and sprinkle breadcrumb mix set on baking trat bake for 15 mins. Cover with foild if breadcrumbs browning fast
Garnish with chives , olive oil and balsamic vinegar.
(I added a drizzle of sweet and tangy tamarind-date chutney on top for tangy flavor- B)
I received a copy of this book from Blogging for Books to work on my culinary adventures.