There are lots of good donuts in the market if you desire a melt in the mouth donut with a cup of coffee.  But if you desire to hang out in a quirky donut shop offering a feast of funky donut choices with friends, family and kids, right in the middle of Austin's famous 6th street, Voodoo donuts is the place.
If you live in Austin, and understand its motto" Keep Austin Weird" you will understand why the distinctive, eclectic, quirky or non-conforming and unique things get popular very quickly. Voodoo Doughnuts, originally a popular Portland enterprise expanded its voodoo magic to Austin and became a hip  24 hr open,  sweet voodoo icon on 6th street.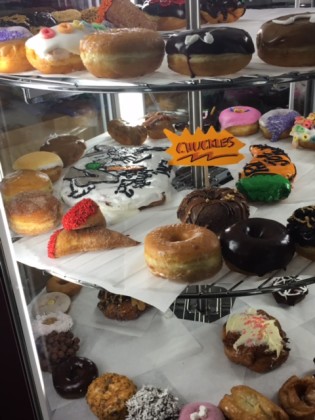 The ambiance is eclectic with a mix of funky, rustic and interesting. Red brick walls with painted art, crystal chandeliers and donut tree!  There is also a stage in the corner for live music, open mike stand up and such.  Yes a donut shop may only be the place you can possibly take your kids to on 6th street, but be aware if you end up on open mic night, the language and content may not be child appropriate.
The place almost always has epic long lines, which gives you time to pick from the large variety of donut options offered. The prices are around $1 to $4 for the donuts.  We have tried out a bunch over the couple of times we were there with family and friends, and found the Apple fritter and French crueler donut among my preferred favorites of course the younger ones have a hole load of favorites.  Voodoo offers  yeast donuts, cake donuts and also vegan versions, which is broadening its clientele to the vegans too.
If you are downtown, sighting their iconic pink voodoo donut boxes which says "good things come in pink boxes"  tempts you to stop by for a donut too. But remember the store takes cash only.  There is also an ATM machine available here for your sweet tooth's convenience!
Cuisine: Donuts and coffee
Rating: ***
Website: http://voodoodoughnut.com/
Location: 212 E 6th St, Austin, TX 78701; PHONE: (512) 215 – 8586
Food Reviewed:
Captain my Captain doughnut
The Loop doughnut
Triple chocolate penetration doughnut
Dirt doughnut doughnut : Raised yeast doughnut with vanilla frosting and Oreos!
Maple Blazer Blunt doughnut : Raised yeast doughnut rolled into a blunt & dusted with cinnamon sugar. The tip is dipped in maple frosting and red sprinkle embers.
Double chocolate doughnut
Chocolate cake doughnut with chocolate frosting!
Apple Fritter doughnut : Fried dough with apple chunks and cinnamon covered in a glaze!
Ain't That A Peach Fritter doughnut : Peach fritter topped with cream cheese frosting with pink and orange sprinkles!
Old Fashioned doughnut
Glazed cake doughnut!
Pot Hole doughnut © : Cream filled chololate bar, with Oreos topped with a trail of frosting for adhering to the proper side of the road to eat first.
McMinnville Cream doughnut : Raised yeast shell filled with Bavarian cream, topped with maple frosting and a set of eyes and mustache!
Chocolate coconut doughnut : Chocolate cake doughnut with chocolate frosting and flake coconut!