A Restaurant Review: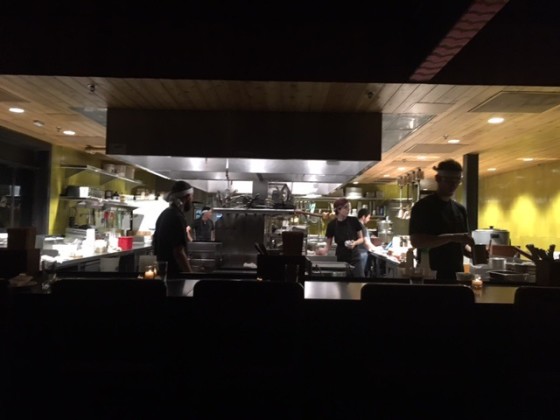 Get swayed by a modern take on Thai cuisine, where each flavor gets emphasized and individually highlighted with its layered, staggered and swayed technique while everything is amazingly delicious!  Sway is a Thai restaurant with more than the Thai flair!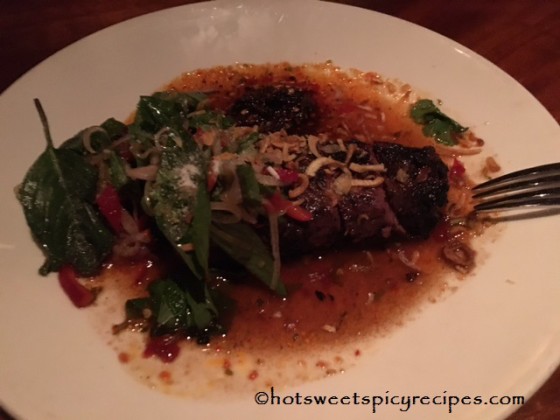 The contemporary restaurant has an urban ambience designed by architect of many top Austin restaurants, Michael Hsu. The modern and upscale, dim lit setting, has square mahogany tables, with birdcage like chandeliers, and unique communal seating with an open visible kitchen. The whole look and feel is chic. Besides that, the Thai dishes created and crafted not only looks artsy but tastes extraordinary.
Each of the dishes we ordered were exceptionally delicious and perfect for our celebratory dinner. Our foodie family ran parallel lists of what we liked most in this restaurant, reaffirming one or the other food was on the top of the list!  We started off with  The Tom Kha Gai Soup- a traditional Thai coconut soup with chicken, hon shimeji mushrooms, bamboo shoots, baby corns, snow peas and  lemongrass, which had  delicious explosion of flavors;  the Tiger Cry –  an outlandishly  named  char-grilled hanger steak in  red chili nahm jim( dipping sauce) topped with  Thai basil, fresno chile, toasted rice,  and nahm prik pao (chile jam) is a hearty dish;  The jungle curry, showcases their tender Wagyu Beef Steak in a base of a curry with babycorn, eggplant, fresh green peppercorns topped with a dollop of coconut cream. Interestingly the flavors remind you of traditional Thai flavors of both Masaman beef curry and red curry!   Another of our Thai favorites is Pla-Lad-Prick, the menu announces it as whole market fish- steamed or fried; The market fish of the day was Branzino fish, which we asked to be fried. At  Sway, they don't douse the  fish in sauce but layer the flavors hence there were layers of sweet, spicy and sour of coconut cream, red sauce and  tamarind sauce, which was interestingly different yet delicious. A common Thai dish like  Pad Thai,  tasted superior with rice noodles, blue prawns, tofu, egg, toasted cashew, bean sprouts and  Thai basil.
Lastly the desert of  Banana split ice cream made with  milk chocolate 5 spice, condensed milk & cashew caramel swirl ice cream, topped with surprising  crunchy black sesame brownie bits and candied cashew,  and garnished with coconut milk jam, drunken cherries, bananas and  whipped cream was of great pleasure to our ice cream fans in the family!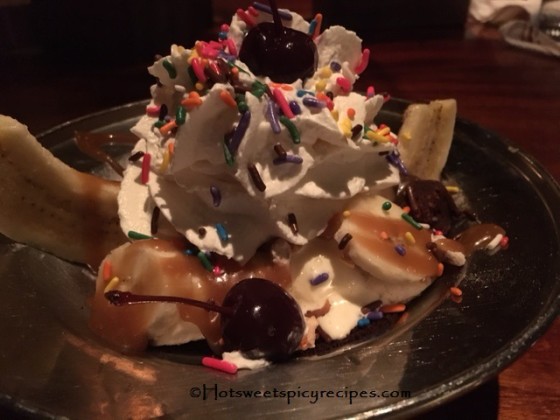 In conversation with our server, we learnt the interesting menu and dishes was designed by their  original executive chef Rene Ortiz who had an Australian take on Thai! Now led by exec chef Martin Wilda, the food is still unique and delectable.
The restaurant also  offers  complimentary valet parking to avoid any parking problems in the city. The only negative I found was conversations were slightly difficult with the table being wide and people spread apart.
We love Thai food and are glad to have a fine dining experience for our celebratory dinners with Thai cuisine at Sway in Austin.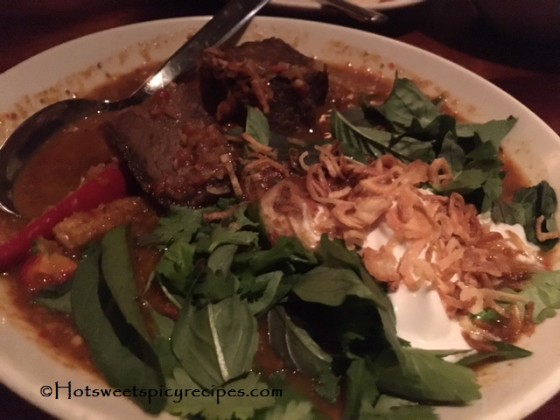 Food Reviewed:
Tom Kha Gai($9)
Tiger Cry($17)
Jungle Curry($19)
Pla-lad –Prik whole market fish ($28)
Pad Thai($16)
Banan Split Ice Cream($12)