Rice & Corn Chudwa – Spicy Rice & Corn Flakes
Chudwa or Chivda as it's called by its Indian name, is basically a spicy rice and corn flakes snack. It's a delicious spicy snack served often with tea or cocktails/ mocktails.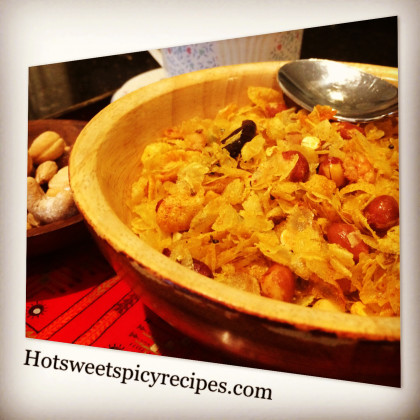 Author:
Birjis Adeni Rashed
Ingredients
4 cups Thin Poha/Rice Flakes thin
2 cups Maize Poha/ Corn Flakes- raw
5 Red Chilli peppers
5 tblsp Peanuts
5 tblsp Dalia/Split Roasted chickpea
2 twigs Curry leaves/Karapak
½ tsp Turmeric powder
1tsp Red chilli powder
1tsp Mustard seeds
1 tsp Cumin seeds
½ tsp Fennel seeds
Salt to taste
5 tblsp of oil
Instructions
Though this snack can involve some deep frying, I have a few tricks to reduce oil usage. In a frying pan or deep kadai pour oil and warm. In warm oil, deep fry the corn flakes in small batches. This avoids wastage of large amount of oil for deep frying. As soon as the corn flakes swell up and get crispy, remove it with a slotted spoon draining out all oil. Set it on paper towels for any excess oil to get absorbed. Do this for all the corn flakes and set aside.
Next in the same oil fry the peanuts and set aside. Fry the roasted split chick peas/ dalia and set aside on absorbent towels too. Lastly add the seasoning of curry leaves, red chili peppers, mustard seeds, cumin seeds, fennel and scoop it out.
The thin rice flakes don't need much oil for roasting. Hence fry the rice flakes in small batches in very little leftover oil. When it's frying add some turmeric to it and when it gets roasted and fluffy take it out and gently mix with the corn flakes and seasonings. Finally add salt, and red chilli powder and toss all together. When it's completely cooled, you can store in airtight containers for few days.
Notes
If you are using 'thick' rice flakes, you may have to deep fry it in batches like the corn flakes for it to get cooked.

Other names for Roasted split chick pea are Dalia; Phule chana ki dal; Phutana