A trip to Paris is anyone's dream come true, but specially for a foodie like me who loves croissants and palmier's  and has been in awe of the fresh baked smell from the  French Boulangeries and Patisseries,  it's heaven.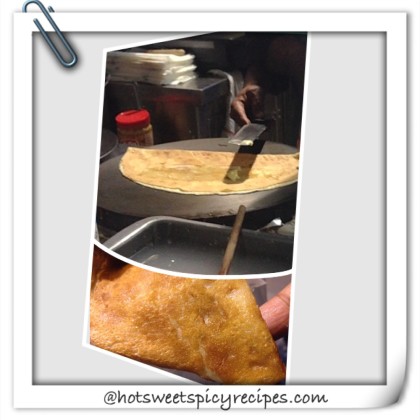 Until my trip to Paris, I didn't know the taste of a savory version of crêpes besides the popular sweet versions we have eaten in America. A crêpe or crepe (I/kreɪp/[1] or /krɛp/ French: [kʁɛp] ( listen), Quebec French: [kʁaɪ̯p] ( listen)) is a type of very thin pancake, usually made from wheat flour (crêpes de froment) or buckwheat flour (galettes).
The word 'Crêpe' is of French origin, deriving from the Latin crispa, meaning "curled". It's cooked on a hot plate or flat frying pan. First the pan is cleaned out and dabbed with small amount of butter or oil. The batter is evenly spread either by tilting the pan or with a toothless rake like tool called rozell and flipped with a long bladed spatula. Crêpes are usually of two types, sweet crêpes (crêpes sucrées) made with wheat or white flour and the unsweetened, savory galettes (crêpes salées) made with buckwheat flour.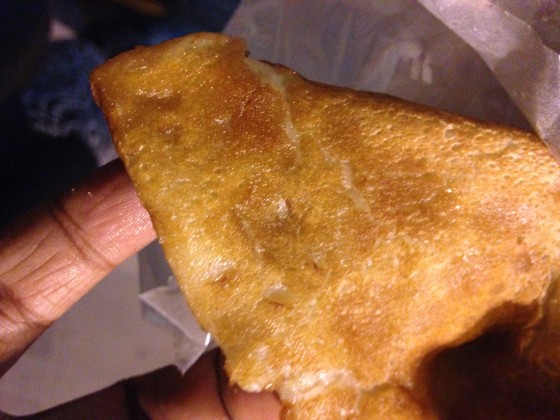 Crêpes are popular not only throughout France but in many countries across Europe and America. In other countries there are adaptations like Italian crespelle, Hungarian Palacsintas, Jewish Blintzes, Scandinavian plattar pancakes, Russian Blini, and Greek Kreps.
Crêpes sometimes are compared to the African Injera, and the Indian lentil and rice Dosa because of the fermented batter, the making process, look and feel and textures but they are very dissimilar in taste.
The sweet crepes have a fruit filling of syrup, fresh fruit, mixed berries, apricots, lemon cream etc. The dessert crepes are also filled with sweet things like Nutella (chocolate hazelnut spread), jam, melted chocolate, fruits spreads, ice cream, apple sauce, bananas, berries, nuts, almonds, coconuts, poppy seeds etc. Sweet toppings include powdered sugar, cinnamon, maple syrup, lemon juice, whipped cream, orange liquor, cider etc.
Common fillings for Savory crêpes or Galettes include: cheese, asparagus, chicken, smoked salmon, ham, spinach, eggs, ratatouille, mushrooms, artichokes etc.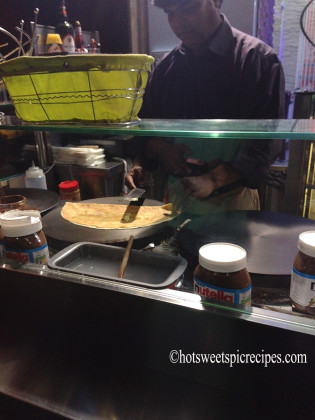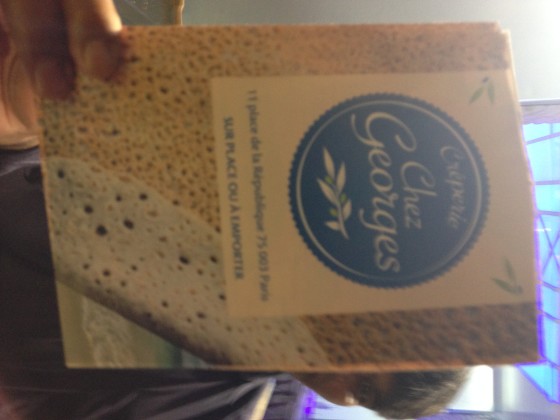 While in Paris we enjoyed both the sweet and spicy crepes either for breakfast or lunches or just as a dessert. Incidentally there was a small crêperie Chez Georges near the hotel we stayed. So end of the day, after the adventures and tour of Paris, enroute from the train station, we used to stop most days for a sweet treat at the crêperie.  Interestingly the chef at this crêperie was an Indian man happy to see other Indians and recommended the butter, nuts and sugar crepe, which both my husband and I enjoyed and the Nutella crepe, which our girls loved.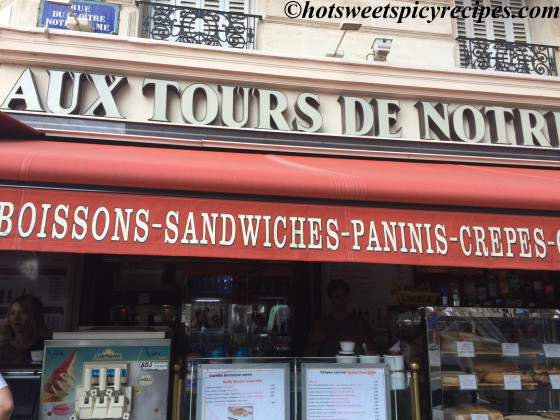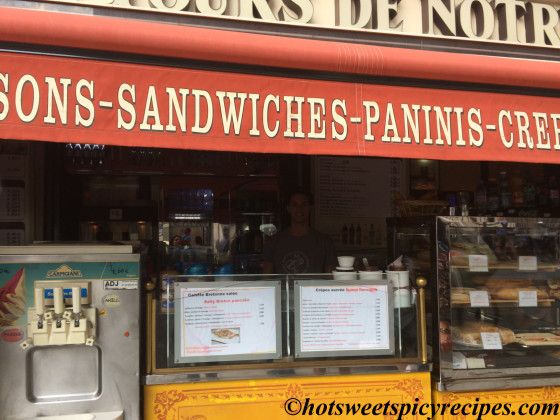 We also had the pleasure of eating our first savory crepes in Paris in a restaurant right near Notre Dame cathedral. The brasserie or café called Aux Tours de Notre Dame was very convenient after our tour in the cathedral and was also endorsed by our daughter's French teacher.  The café has a sit down restaurant and and order out version. Since the place was already crowded we opted to order and pick and go. The chef and checkout clerk of American origins who was fluent in English said it was a smart decision too since the food is the same but the sit down restaurant is more expensive with much more waiting time at this place.   The advantage of ordering from the checkout bar was we got a full demo of how our crepes were getting made.
Check out the video of how crepes are made:

The crepes and baguettes which we ordered, both were scrumptious and filling. We ate a chicken, cheese and mushroom crepe both here and at other crêperies across Paris and comparatively we very much liked the taste, quality and flavor of the crepe at this restaurant.
The common ingredients in the recipe includes flour, eggs, milk, butter and a pinch of salt.
Aux Tours De Notre Dame
Cuisine: French
Rating: ***.5 (3.5)
Location: 23 Rue d'Arcole, 75004 Paris, France
Food Reviewed: