Murmura Chivda – Spicy Puffed Rice
Murmura is Puffed Rice which is made into a spicy snack called Murmura Chivda or Kara Pori. It's a delicious snack served with evening tea. At our home, it's very popular as picnic snack, late night snack or anytime snack.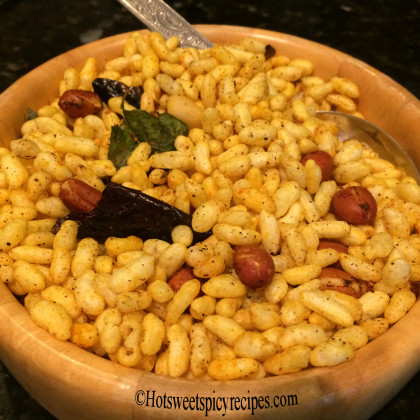 Author:
Birjis Adeni Rashed
Ingredients
200 grms Puffed Rice
1 cup Peanuts, Raw
½ cup Dalia/Split Roasted chickpea
½ cup coconut slices, fresh or dry
5 Red Chilli Peppers
2 twigs Curry leaves
1 tsp Turmeric powder
1 ½ tsp Red chilli powder or to taste
1tsp Mustard seeds
1 tsp Cumin seeds
½ tsp Fennel seeds
½ tsp Carom seeds
2 Garlic cloves , slightly chopped
Salt to taste
2-3 tblsp of oil
Instructions
Heat oil in a frying pan. When the oil is warm, add the seasoning of mustard seeds, and when they start to crackle add curry leaves, red chilli peppers, cumin seeds, fennel, carom seeds and garlic. Immediately add the peanuts and stir it around and make sure they get fried and crispy. Add the phutana or roasted split chickpea and fry it too.
To spice up the flavors add salt, red chilli powder and turmeric. Lastly add the puff rice or Murmura and toss it around all together and roast it well. Keep on low flame, while you make sure the puffed rice is roasted and flavored and peanuts fried.
When it's completely cooled, you can store in airtight containers for few days. Enjoy anytime or with a cup of chai tea.
Notes
Check out the Indian names of the ingredients for convenience-
Puffed Rice-Murmura; Peanuts, Raw – Mung Phalli; Split Roasted chickpea-Dalia, phutana; coconut slices, fresh or dry- chopra; Red Chilli peppers- Sabit Lalmirchi; Curry leaves-Karyapak ; Turmeric powder-Haldi; Red chilli powder-Mirchi powder; Mustard seeds-Rayan, rai; Cumin seeds- sabit zeera ; Fennel seeds- saunf ; Carom seeds- ajwain; galic cloves – lahsun; salt-namak