To experience the quintessential old Austin Iconic landmark restaurant with amazing burgers, you need to head over to Huts hamburgers.  In the heart of downtown Austin on 6th street is the legendary Huts Hamburgers. An Austin land mark since 1939, Huts offers unique big patty burgers made from Texas raised, grass fed, buffalo/ Long horn beef. It also offers chicken and vegan veggie burger options too besides a wider menu of chicken fried steaks, meat loafs, sandwiches and salads.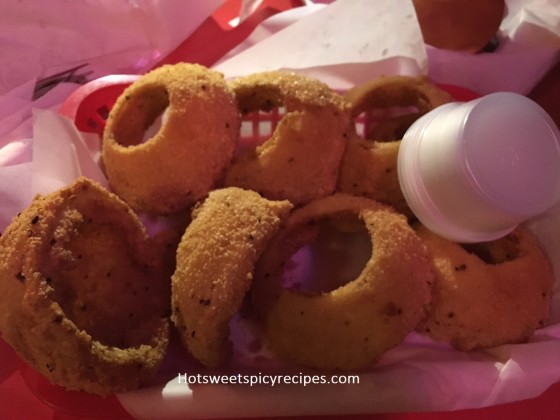 We have often gone here for it unique big burgers and onion rings and experience the iconic old Austin ambiance in downtown Austin. The place is almost always busy with some waiting time. But it's worth the wait to eat good food.
Recently when we were at Huts, we were lucky to get great parking right in front of the restaurant. There was a 30 minutes wait but we went ahead and hung out.  The place was filled up with families in burnt orange who seem to have come from a UT game. Finally we got our turn and were ready to order our burgers and onion rings.
We ordered the  The Fats Domino Burger which was a  'Big' juicy burger stacked with  Lettuce, chopped tomatoes, pickles, mayo and mustard, jalapenos, onions, grated cheddar cheese & spicy New Orleans Cajun  seasonings; The  Boodieburger which was topped with Sour cream, mushrooms & Swiss cheese ,  a surprisingly amazing combination with added jalapenos, it was a delicious burger;  Beachboy's Favorite was another 'hotsweet' combo with  Pineapple, Swiss cheese, mayo lettuce & bell peppers and added jalapenos. Lastly the Ritchie Valens Burger with Guacamole, grated cheddar, chopped tomatoes, onions, jalapeños, mayo & mustard is another good combo.
Each of these burgers were exclusive, moist and big and uniquely delicious in different ways. The topping of each burgers made a tremendous difference and we enjoyed our burgers and bites from each other's.  The hand-made onion rings are crunchy and delicious with their sauces and surprisingly not oily at all.
Price wise too, the burgers are greatly priced for the amazing delicious options. Huts burger is truly one of the 'must eats' of Austin. Lastly an FYI info- Austinite Matthew Mcconaugheys favorite Huts hamburger is apparently 'Arnolds best'!
Cuisine: Burgers and more
Price Range: Average
Overall Rating: ****
Location: 807 West 6th Street ,Austin,Texas 78703; Hut's – 512 472 0693
Food Reviewed
10.The Fats Domino Burger: Lettuce, chopped tomatoes, pickles, mayo and mustard, jalapenos, onions, grated cheddar cheese & spicy New Orleans seasonings ……………………………..$7.75
19.Boodieburger: Sour cream, mushrooms & Swiss cheese ………………………………………………………$6.95
14.Beachboy's Favorite: Pineapple, Swiss cheese, mayo lettuce & bell peppers……………………………………………$6.95
17.Ritchie Valens Burger: Guacamole, grated cheddar, chopped tomatoes, onions, jalapeños, mayo & mustard …………… $7.75