"From the second she put on the Apron I'd follow her every move….. Although I was not allowed to help in the meal proper, my mother gave me things to do…… I was fascinated with the art of cooking, how sugar, butter, apples and dough magically transformed into a richly burnished Tarte Tatin…..I loved the constant motion of cooking, like some kids liked sports…. She spent hours assembling her couscous, starting with the mise en place. Next she began her Lamb Tagine, flavored with the peel of lemons that she had buried in jars of salt till they became moist and candy like. While the tagine simmered in the cone topped earthen pot, she rolled damp semolina between her hands until fine, fluffy, blond grains of couscous showered in the bowl ready to be steamed…. I was fixated on whatever her hands were doing as she spoke, the slow intricate dance that always ended deliciously. It was an incredible show."
Listening to this beautiful  and mesmerizing words of Eric Ripert in the  French accented voice of Peter  Gamin  every day  on my car's CD player  while  driving to the  culinary school to teach  technical and food writing to future chefs was an energizing, invigorating and thrilling experience.   It was a fortunate coincidence that I was listening to the Audio memoir of   Michelin star Chef Eric Ripert's  32 Yolks the same time I was telling my students  about why the things they learn in class  will be an essential  life skill  they will appreciate one day! I have read many a memoir and biographies and am always fascinated with life's experiences and the legendary success stories.  Memoirs and biographies are the reality of life and give optimism and hope to the reader since that life story in the end is not a fictionalized and recreated but a successful, truthful, happy ending 😉
Ripert 's memoir holds many a life's trauma, his parents' divorce, his step fathers bullying, his father's death,  abuse by a priest at boarding school, culinary school drudgery and  detailed stories of working in the kitchens under perfectionist chefs  and the living fear of failing and falling short, and the pressure and  discipline  which made him the man he is today!
The name of his memoir strangely comes from his excruciating learning process of making Hollandaise sauce from 32 yolks. He feels it was the defining moment he became from a theoretical cook to a chef!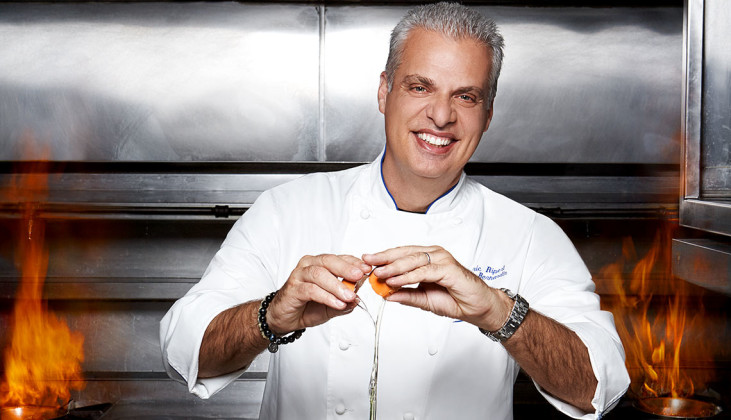 The book talks in intricate detail of cooking rich and classy French food and eating lavish spread of courses.  Listening to the often mentioned  Tarte Tatine, on one of my drives to work, intrigued me enough to go question my colleague Chef Will Packwood to describe it. Tarte Tatine (French pronunciation: ​[taʁt tatɛ̃]) is an upside-down pastry in which the apples are caramelized in butter and sugar  after which the puff pastry is placed on top and  the tart is baked;  tart is then inverted on the plate and served.  Interestingly the same Chef had just returned from his trip to NY city and had eaten at  Eric Ripert's Michelin starred restaurant  La Bernadine  and had talked about the  different courses he ate there,  just around when I had started the book.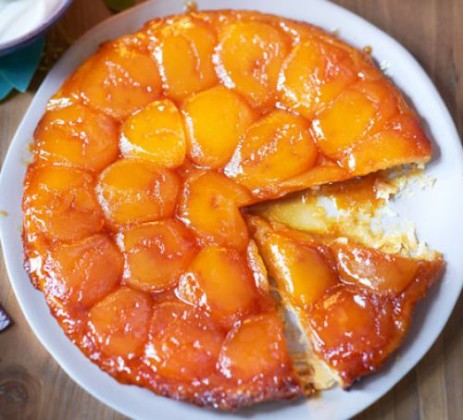 Every day, after listening/reading I had a tidbit from the book to share with my students. And when Ripert vents about his drudgery of his culinary school, I could immediately relate to the laments of my students, hence shared the wisdom Ripert imparts from his experience- At culinary school he learnt the difference between cooking and eating ….initially Ripert had felt learning basic curriculum was boring for a person exposed to fine cuisine and had related it to a kid who grew up listening to Chopin and had to go through Do- Re-Mi in music school. Though over time he had realized the importance and art of holding a knife…..that cutting an apple is not like cutting a carrot …. 10 mins to dice 6 onions  was boring, yet he was aware that if he was to be the best he would have to master it … like piano scales….even Chopin didn't start with a sonata!.….. he says "now cutting the onion is fun, its sensual like a musician warming up with the piano scales….."
In the book Eric Ripert talks in detail about all the mentors who shaped his life, starting from his mother, to chef Jacques who introduced him to the cooking in his early childhood, his friend/peer Maurice, to George who exposed him to the art of cooking meat which he felt had a sensuous muscularity, chef Ramon, to Parisian chef Bouchet and finally in great detail about chef Robuchon.
Though he used to be angry with his mother about his parents' divorce, his anger disappeared in the kitchen. He writes about how his mother indulged and educated him in the arts of fine cuisine and l'art de la table  " My mother worked 6 days a week at a boutique but cooked like a Michelin star chef every single night. The table was set with fresh flowers and beautiful table cloth…. We began each meal with a delicious starter: may be onion soup, or a rustic salad made from blanched or raw vegetables, apples avocado, radiches, potato, haricot verts, corn… for the main course they would be something a la Minute like a pepper steak or something she had prepped since morning like a roast shoulder of lamb, there was always dessert too: fruit dish like pear soaked in red wine on weekdays or something elaborate like a flan or mixed berry tart on her day off…."
His other big mentor under whom he worked under pressure and fear of disappointing was Chef Robuchon. He says under this perfectionist driven chef he learnt discipline, innovation, flavor, technique, speed, skills and how to be a cook.  He understood here:  "Cooking is not architecture first…. it's about flavor and harmony of ingredients you put in each dish. The 3D plates of Robuchon were complex mosaics of color and ingredients…pushing the design to the limit… Painting was the food and colors, presentation was the frame."
Eric Ripert  and coauthor Veronica Chambers walked us through Riperts life from his childhood in south of France to Mountains of Andora to  working in Michelin starred restaurants in Paris  and ended when he at the age of  24 made his home in the kitchen and  United States of America. I look forward to his memoir part 2 if there is one….. It would be quite interesting to learn about his later years and  read more about his success, his Michelin stars and Le Bernadine…..
I highly recommend this book to any foodie, culinary student, chef and anybody who likes to read about a man's perseverance leading to success.
This audio book was received by me from the publishers at Blogging for Books. I tremendously enjoyed listening to Eric Ripert's memoir and sharing his stories with my students at Auguste Escoffier School of Culinary Arts.
Book: 32 Yolks: From My Mother's Table to Working the Line
Authors: Veronica Chambers and Éric Ripert
Narrator: Peter Ganim
Review: Birjis Adeni Rashed