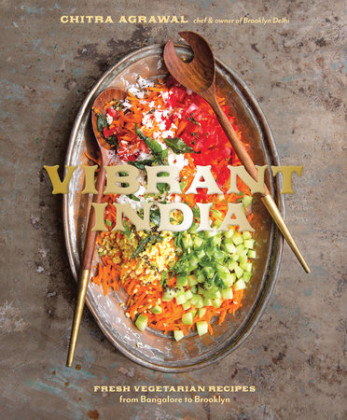 This is literally a vibrant recipe book with many pictures of colorful spices and Indian foods. The recipes of vegetarian dishes like Dosa/Lentil Crepe, Chitranna/Lemon Peanut Rice, and Dal/Lentil Soup from south India, particularly of a city called Bangalore make this book very familiar to me.  Being from South India myself, I am acquainted with almost all the dishes in this book with my own variation of recipes.
The Recipe Book is part memoir, part recipe book of the author's roots to south India and its traditions; It talks about her life growing up with Indian food as an American born Desi (Indian) in America [ interestingly  she also has a blog The ABCDs (American Born Confused Desi) of Cooking http://abcdsofcooking.com/] ;  And how the author  adopts  traditional  recipes while making few of her own fusion versions are what makes this book.
The author, Chitra Agarwal has been a cook, blogger, condiment creator (Brooklyn Delhi pickles) and a culinary instructor. Hence the recipes are clearly written with descriptions, details of serving size, vegan and gluten free symbols, ingredients listed with the mise en place included, and the procedure in detail. The titles are in both English and Kannada (a state language of Karnataka state in south India) to appeal to both western and Indian audiences.
Though the book has a lot of healthy, vegetarian, south Indian recipes, a section of audience exposed to more popular chicken tikka masala and lamb curries in restaurants may not find it appealing!  The book is for all those intrigued and interested in south Indian recipes or open to try flavorful vegetarian recipes of south India.
Like I said earlier, I have my own versions of the south Indian dishes in this recipe book,  but I did try out couple of  the recipes and liked the slight variations, which I can adopt sometime for  more variety.
Below is the Lemon Peanut Rice Recipe /Nimbehannu Chitranna from Vibrant India.
Serves 4 vegan and gluten free
4 cups cooked turmeric rice (cooked jasmine or basmati rice colored with turmeric and oil)
¼ cup unsweetened grated coconut
2 tblsp +1tsp –oil
¼ cup raw peanuts
½ tsp mustard seeds
Pinch – asafetida/Hing
1tsp chana dal
1tsp urad dal
4 or 5 curry leaves
1 dried chile
½ to ¼ tsp –salt
Juice of 1 lemon or more
In oil, fry peanuts and set aside
Add more oil, when it's warmed up, add the mustard seeds, and let it sizzle and pop. Add the asafetida, and immediately after add the chana dal, urad dal, curry leaves, and dry red chile.
Add the cooked rice, salt, and stir in the coconut flakes.
Stir the lemon juice and chopped cilantro. Taste for the salt and lemon flavor and add more if required.
Add the peanuts and garnish with more cilantro
It was a tangy flavorful dish and the only variation it had from my personal recipe is the addition of coconut and cilantro. I like the variation and may make it sometimes for slight change of flavors.
All those who are intrigued by the crispy rice crepe's called  Dosa's will enjoy this book;)
I received a copy of this book from Blogging for Books to review. Thank you publishers.
.