London, is a city with great history and cultural legacy which has been influenced by British Empires' global spread of colonial regimes. London is hence an international city and it's reflected in its food ethos.
In my travels to London, I had definitely seen the restaurant choices reflected global cuisines to cater to the diverse population. The London Cookbook similarly portrays the vast food scene in London from hole in wall restaurants to upscale restaurants of various cuisines
The Book written by food Writer Aleksandra Crapanzano is divided into Lightfare; Soups; Pasta, Rice and Grains; Vegetarian; Seafood; Fowl; Meat; Desserts; Chilled Desserts; and Cocktails but the range of recipes and cuisines are what makes this book interesting.
The eclectic  range of recipes  featured are like  Duck Confit from upscale financial district restaurant Duck and Waffle; Middle Eastern  Spiced carrots with Freeken and Labneh ; Rissotto  with pumkin from famous River Café ; Potato Chaat with Pomegranate Mint and Rose Raita from Gymkhana ; Tatouka/ShakShuka from Fernandes and Wells; Fish and Chips from Toms Kitchen a casual and popular Chelsea restaurant; Grilled Chicken Tacos from Wahaca; Chicken Berry Britannia from Dishum; Korean Steak and shoe string fries from Dock Kitchen, northeast of Notting Hill; Hungarian Veal Goulash from Jago; Apple and Calvados cake from St Johns; Garam Masala Christmas pudding with Nutmeg Custard from the Cinnamon Club; Coconut and Makrut lime green tapioca from Grain store; Ras El Hanout and Buttermilk Loaf from Fernandez and Wells; Bakewell Tart from historic Rules restaurant.
The book cover is very appealing featuring the Buckingham Palace and scattered with recipes, food pictures and London life with writers personal anecdotes which makes it a fun book to own.
To try out the recipe from the book I decided to pick a recipe from   Dishoom- an East London restaurant in the hipster area of Shoreditch, London is famous for more Indian restaurants than the big city of Mumbai, hence having a Indian recipe reflective of London seemed appropriate.
Dishoom is supposedly an ode to Mumbai/Bombay;s Britannia restaurant and has flavors of the Bombays Irani cafes and Parsi/Zorastrian cuisine .  The word 'Dishoom' of course means a 'Punch' in Bollywood movie style hence the decor of the restaurant is apparently fashioned with antique film projectors as lamps!
The recipe I tested out was :
Chicken Berry Britannia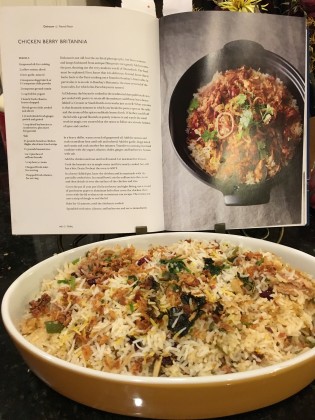 Grapeseed oil-for cooking
2 yellow onions, sliced
1 clove garlic ,minced
2 teaspoons Deggi mirchi or 1 /2 tsps chili powder
2 tsp ground cumin'
2/3 cup yogurt
1 bunch cilantro ,chopped
1green chili, seeded and sliced
2inch knob of fresh ginger, peeled and grated
¼ cup dried barberries or cranberries plus more for garnish
Salt
1 ¼ lb boneless chicken
1 ¼ punds basmati rice
1 pinch saffron
½ cup heavy cream
Fresh mint, chopped, for garnish
Fresh cilantro, chopped for garnish
Method:
In a heavy skillet, warm a touch of grapeseed oil, add onions and cook on medium heat until soft and colored. Add garlic, chili powder, cumin, and cook for few mins. Transfer to a mixing bowl and combine with yogurt, cilantro, chilies, ginger and barberries, season with salt.
Add the chicken and toss until well coated. Let marinate for 2 hrs.
Cook the basmati rice in ample water until nearly cooked and still has a bite. Drain. Preheat oven to 400 degrees Fahrenheit.
In a heavy lidded pot layer the chicken and its marinade with the partially cooked rice. In a bowl stir the saffron into the cream and drizzle it over the surface of chicken and rice,
Cover the pot with foil and heavy lid to prevent escape of moisture.
Bake for 45 mins until chicken is cooked.
Garnish with mint cilantro and barberries or cranberries and serve.
I made raita / yogurt chutney to go with this recipe.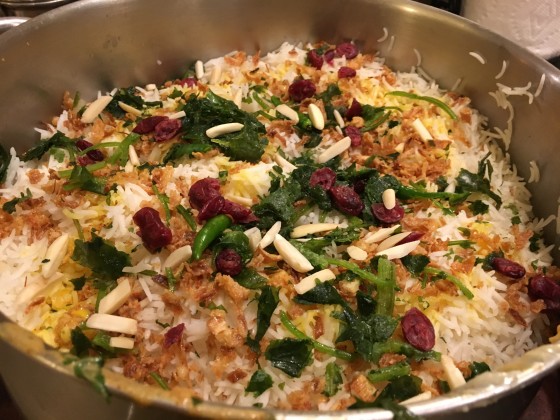 It's an easy  chicken palav recipe to follow and makes a delicious dinner for a weekend evening. It reminded me of the Hyderabadi Kachi Gosh ki Biryani  but with chicken but more milder since it's  Parsi recipes are relatively milder than Hyderabadi recipes.
I received a copy of this journal from Blogging for Books  and look forward to cook lot more out of this book of diverse cuisines this winter holidays.
Birjis Adeni Rashed -http://hotsweetspicyrecipes.com/