I have been fascinated often with greens or vegetables which I typically don't cook, and at times chatted up conversations with other shoppers buying unfamiliar vegetables at the grocery store, wanting to know how they cook those vegetables! Now with The Book of Greens in hand, I tried out many greens in new recipes and pushed myself to work with greens beyond my familiar territory.
Jenn Louiss, the author in the The Book of Greens compiled about 175 recipes of a wide array of greens from the familiar to the unfamiliar. Organized in alphabetical order with details on availability in seasons, she provides nutrition factors, health benefits and cooking tips of so many greens –  Amaranth, Arugula, Bok Choy, Swiss chard, Collard greens, Dandelions, Gailan, Malabar Spinach, Mustard greens, Purslane, Sorrel , Spinach, Watercress and many more.
The recipes of this book were tried, tested and adventured into by our cookbook club and each recipe either was followed to the T or improved on and enjoyed together. This review hence has a combination of appreciation, applause and feedback.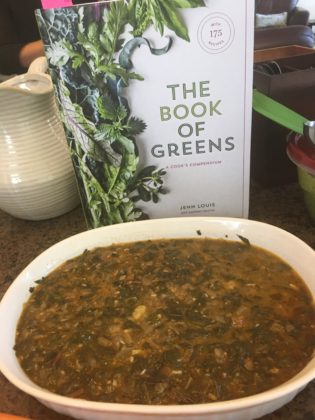 I had worked with Swiss chard before and use it in recipes like lentil chard dal, which I had enjoyed in a friend's house first time. The recipe in the book – Swiss Chard with Garam Masala and Coconut Milk, seemed something familiar to the spinach and coconut recipe I make often at home hence tried it out as a variation.
The book asserts the amazing nutritional facts of  Swiss Chard being rich in vitamin A,B,C,E,K, magnesium, iron & potassium. Good source of dietary fiber with flavonoids which can aid in blood sugar regulation.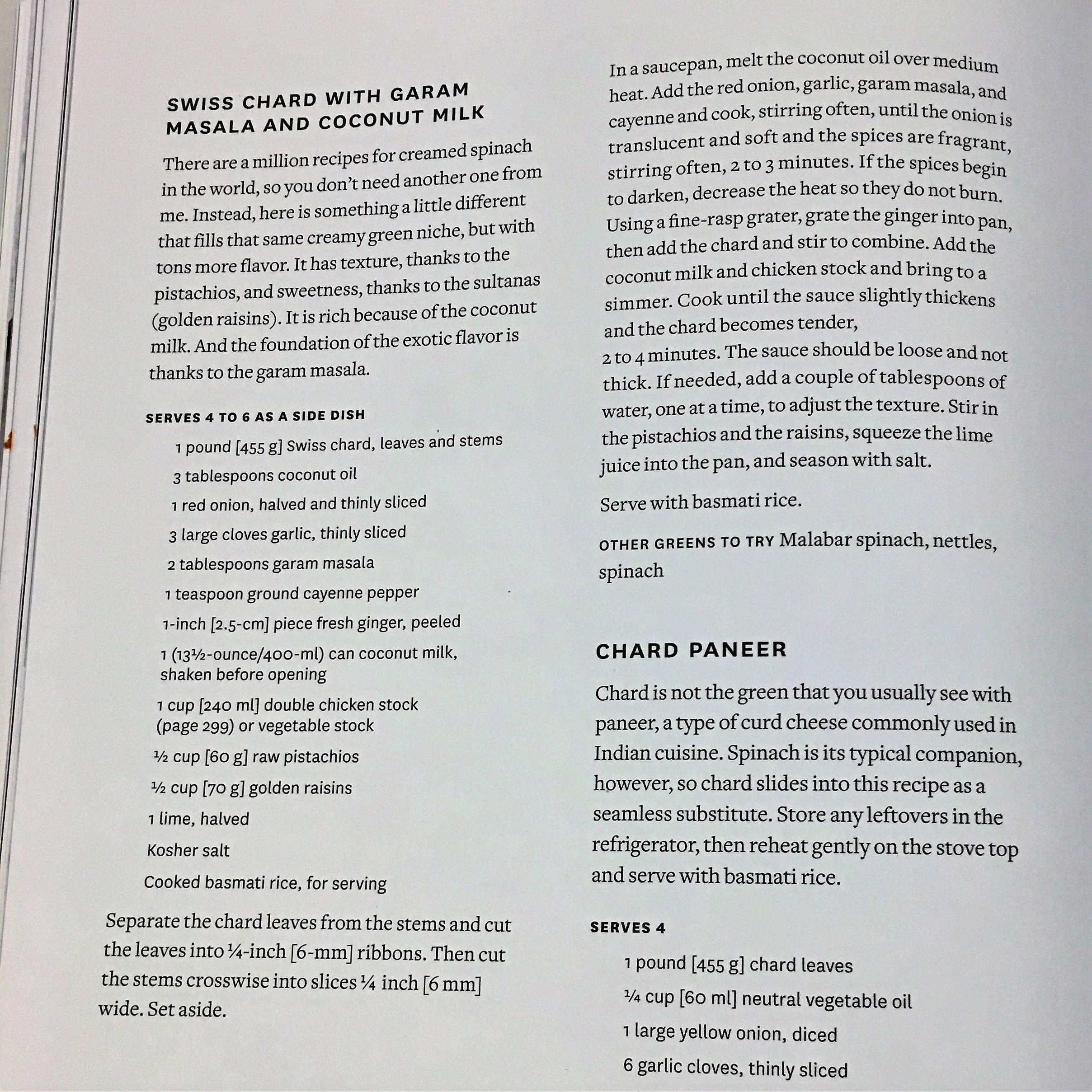 Swiss Chard with Garam Masala and Coconut Milk. – this recipe made with the chard  leaves, stalks, chicken stock, and coconut milk was of great flavor, but  I had my own personal change to the amount of garam masala to be used in the recipe.  To avoid the recipe being overpowered by the garam masala, I recommend using less than half the requirement of 2 tablespoon of garam masala.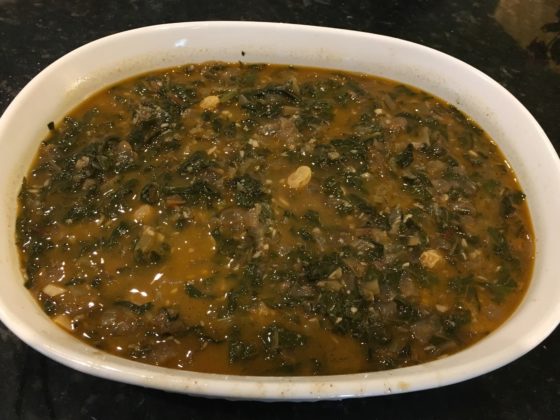 Green Pancakes is the other recipe I tried out since my girls like pancakes and a healthy variation would be great some mornings!  These were delicious and well appreciated paired with honey and fig preserves. Other than the fact that they were green, the pancake being made of spinach was not a bother and enjoyed with the same enthusiasm. This recipe is perfect for all those parents wanting to make their children eat greens!
The books' Pesto101 recipe now lets me try out Pestos' with various combinations and according to what green is growing in abundance in my backyard I mix and match my green with the crunch.
Our cookbook club also made –
Amaranth Falafel recipe- this recipe was made with both amaranth and spinach variations. They both added more jalapenos for extra heat than what the recipe called for.  The Amaranth version came out better with taste and texture, the spinach had certain difficulties.
Amaranth  are unfading and strong plants to  kill in gardens and I remember Maath ki bhaji (hindi )  or thota kura(telegu) grew wild like a weed in India. Though considered an inferior substitute of spinach it is rich in vitamins A, C and folate.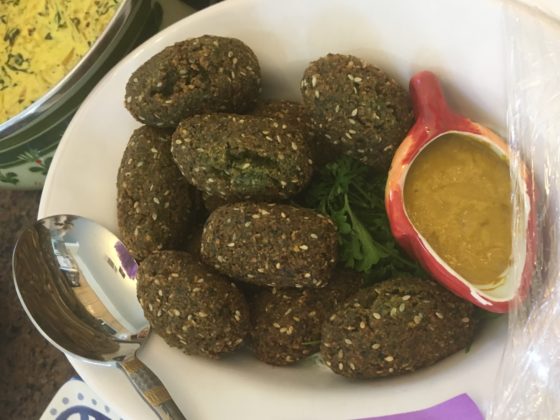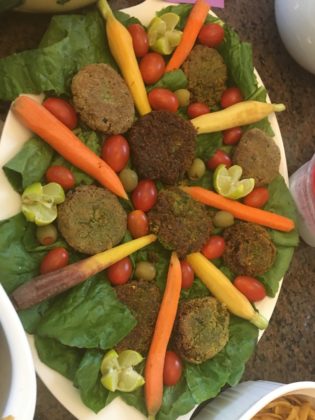 Arugula Salad with Red Grapes, Feta and Dukkah– Arugula is a delicate textured yet strong and peppery salad green known for its aphrodisiac qualities. This salad got a lot of flavor with the added Egyptian spice blend Dukkah which could be make too from the added recipes in the book.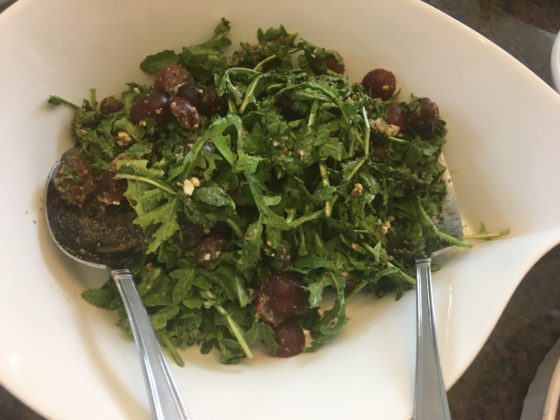 Braised Bok Choy with Apples and Bacon–  Bok Choy is popular Chinese vegetable and known for its immune boosting properties. This recipe turned out delicious with the combinations of baby bok choys, apples, candied ginger, and halal turkey bacon (  this was substituted since our club members don't eat pork based products).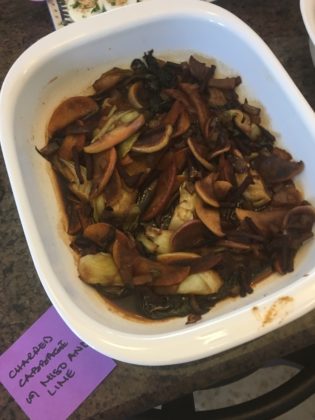 Tender Bok Choy salad with Chicken and Orange– this Chinese  chicken salad was simple to make and  flavorful with bok choy and added miso vinaigrette.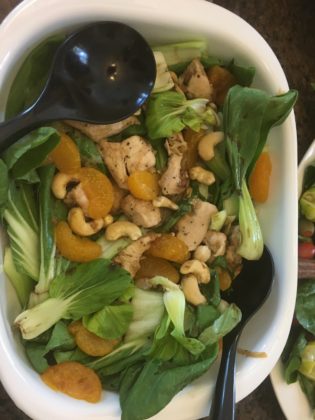 Charred Cabbage with Miso and Lime: Cabbage apparently has a nutrient sulforaphane (also in Brussel spouts ) which boosts cancer fighting enzymes besies its other healthy nutrients. Charred cabbage is a simple recipe with few ingredients like miso and butter so that you can practically taste the innate nutrition of the cabbage!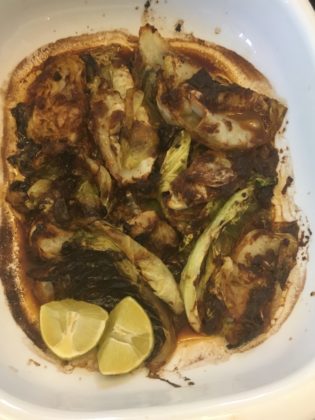 Okonomiyaki and Brines cabbage –  Okonomiyaki (literally means 'grilled as you like it') is a savory version of Japanese pancake, made with flour, eggs, shredded cabbage, meat/ protein and topped with a variety of condiments. The author substitutes the shredded cabbage with brined cabbage for a funky ferment flavor and it was an interesting eat topped with turkey bacon and  drizzeled with fish sauce aioli AND  shichimi togarashi(mustard green furikake). The books recipe was not followed as is and  requirements were changed.The amount of all purpose flour required was reduced and even substituted with almond flour.  So when you follow this recipe, do be aware of the amounts to be added according to your needs.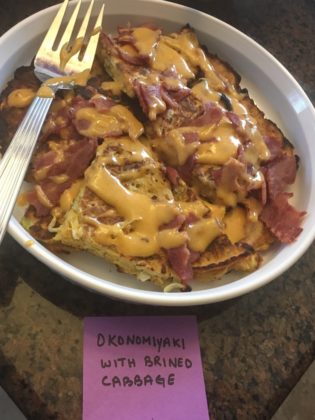 West African Peanut Stew with Collard Greens and Sweet Potatoes– This earthy stew has a lot of nutrition and flavor from collard greens, peanut butter and sweet potatoes.  Collard Greens are considered soul food in southern style cuisine. It's known for its cholesterol lowering abilities and good source of vitamin A, C, K, calcium, iron and manganese and fiber and as digestive aid.
The recipe asked for double chicken stock which required a lot of hunting around for chicken bones, hence its recommended you use chicken stock or vegetable stock to make the recipe easier to create.
Deviled Eggs with Vietnamese Coriander and Chile– Vietnamese coriander also called hot mint has flavors of chives and tarragon and rich in vitamins A,E,K and folate. Adding this pungent greens and sambal oleck adds flavor to deviled eggs.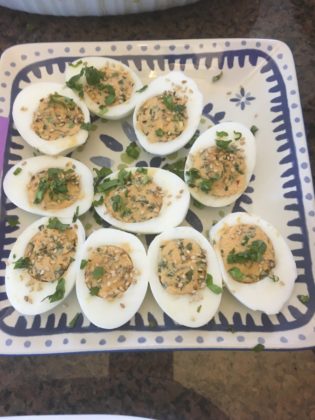 Fettuccine with cayenne, Fennel and Kale- Kale was a trending superfood in the past few years for its health benefits. It's loaded with vitamin A,B,C,E,K, calcium, phosphorus, iron, phosphorus and fiber. Kale and fennel added to fettucine give a healthy variation to your bowl of pasta.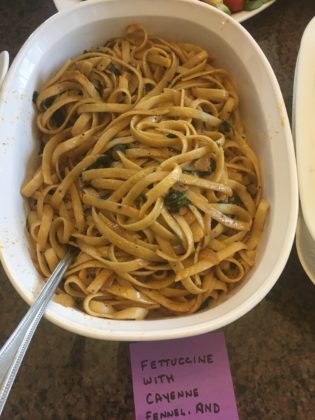 Malabar Spinach Shakshuka – Malabar spinach, is citrusy, smooth and slimy green, rich in vitamin A, C,Iron, calcium and fiber. In this recipe the typical Mediterranean red tomato based Shakshuka is replaced by tomatillos and Malabar spinach for a greener version. If you like eggs and like to make different variations for your breakfast, this could be one too.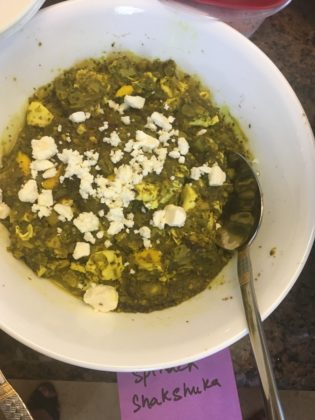 Purslane: it's a nutritious green with unusually sweet and sour taste with good amounts of vitamin A,B,C,E, magnesium, calcium, potassium and iron. (Also called Qulfa ki bhaji in India & Pakistan) This green was not easily available in grocery stores but luckily was growing in our urban garden at Auguste Escoffier School of culinary arts, hence I could procure it . This was made into a  sautéed purslane yogurt riata ( recipe not it the book)
SnowPea Greens–  Pea greens  are available in Asian markets since this is used more in Chinese cuisine. These are micro greens which are the tendril  shoot part of the pea plant. It requires minimal cooking with minimal ingredients and cooked on high heat and fast. Overcooking it makes it flavorless.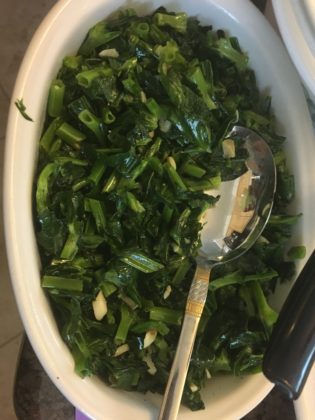 Radish Green and Mango smoothie with curry and yogurt: Radish greens are pungent and spicy yet not as much as their roots and good source of vitamin C, folate and potassium. This green smoothie was a delicious drink for our book of greens luncheon.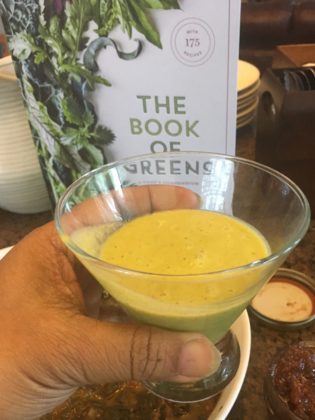 Mung Dal and Basmati Kichuri with Beet greens– Beet Greens are nutritious like their root and are good source of vitamin a,B,C,K, calcium, iron, managanese ,copper, & potassium. Kitchuri/ Khichdi  the Indian/Pakistani one dish casserole made  with lentils and rice is considered delicious and wholesome food. By adding beet greens, its nutritious factor can be further boosted.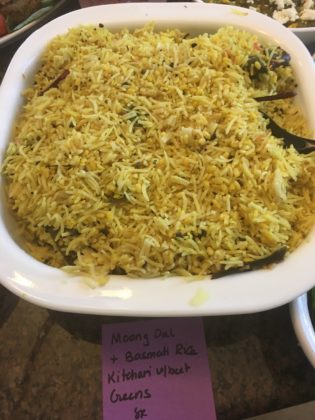 Thanks to the publishers and Blogging for Books   for this recipe book, it motivated me and the members of our cookbook club to try out more greens and unfamiliar greens in our culinary adventures.