The sign in front of the restaurant is simple and does not justify or herald the great food it serves inside! This small restaurant is located in a strip mall near Lakeline mall area on the intersection of highway 183 and 620 but may fall in the category of one of the best Thai restaurants in Austin!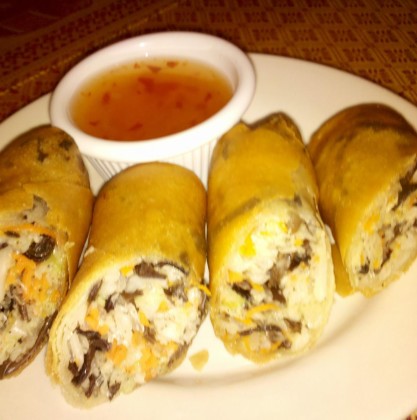 I was recommended this restaurant by a friend almost when it was new, but I finally got to go  recently.  When my  friend  and I went for lunch  in the middle of the week, the place was decently occupied and increased in capacity during the lunch time.
We were seated immediately by our waitress who was very courteous and took our order promptly. We ordered Vegetable Spring Rolls, Pad Thai and Spaghetti Kee Moa, while she served the soup of the day- chicken corn soup.
The soup was simple and good and reminded us of a homemade taste.  The spring rolls were decent and crispy.  The entrees were of course the best. The 'Pad Thai' with shrimp  here was excellent and I thoroughly enjoyed it to the core. The size was pretty decent, hence besides a hearty meal I packed a 'to-go' box too. My friends 'Spaghetti Kee Moa' with chicken was equally tasty and yum.
While we were enjoying the entrée,  the friend who recommended this restaurant  dropped in surprisingly  with another friend. Thanking her for recommending this excellent Thai we all got seated together and enjoyed our food. The waitress was helpful in seating us together too.
We had a great afternoon with excellent food and good friends; Now I know where I can drop in next time for great Thai food, a cuisine which is my personal favorite 😉
Cuisine: Thai, Asian
Price Range: Average
Rating: ****
Website: http://www.muangthaithaicuisine.com/
Location: 13945 Highway 183 North,Suite C-80, Austin, TX 78717,          (512) 219-5999
Dishes Reviewed:
•    Pad Thai: Thin rice noodles stir-fried with bean sprouts, eggs and   scallions. Served with bean sprouts, shredded carrots, and         topped with roasted ground peanut.
•    Spaghetti Kee Mao:  Spaghetti stir-fried with onions, straw mushrooms, fresh   basil, tomatoes, bell peppers, and fresh Thai chili.
•    Vegetable spring rolls
•    Chicken corn soup