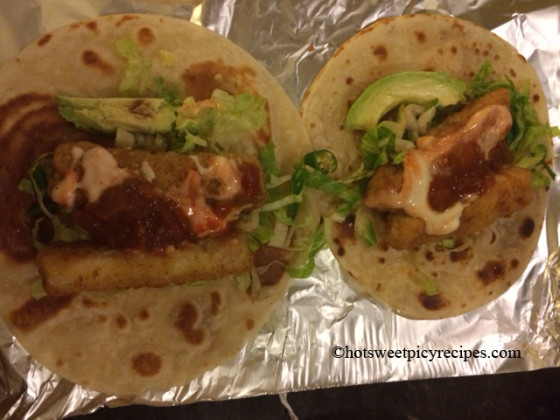 When the kids have exams, TAKS tests and STAAR tests, we get a letter from schools to make sure our kids eat wholesome breakfast and to pack a good nutritious and hearty lunch. Not that we don't do the same for our kids every day, we go overboard with the wholesome healthy breakfast  and a hearty lunch on these particular days.
Today was one such exam day, hence  our healthy breakfast was a bell peppers and onions, egg omelet, while  for lunch, I packed fish tacos, kettle potato chips, an orange, granola bar, apple juice and  to ward of any fishy aftertaste, a small chocolate for dessert   with a motivating  note 😉
The Fish tacos are a healthy and wholesome lunch made with simple ingredients and hence easy to make for lunch boxes!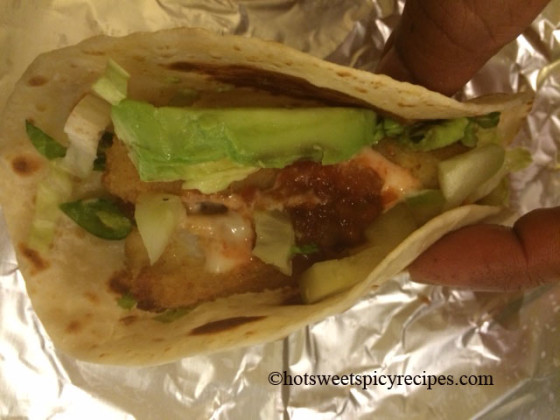 Yield: Makes 4 tacos
Prep Time: 10 minutes
Cook Time: 5 minutes
 Ingredients:
4 uncooked flour tortillas
8 Chunky fish sticks
2 teaspoons of Salsa
2 teaspoons of  Spicy Sriracha and Ranch combo sauce
1 teaspoon  feta cheese( optional)
4 slices of Avocado
4 slices of cucumbers
8 slices of red/green bell pepper
1 jalapeno seeded
1 cup shredded romaine lettuce
½ lemon
1 tsp cilantro
dash of Salt and black pepper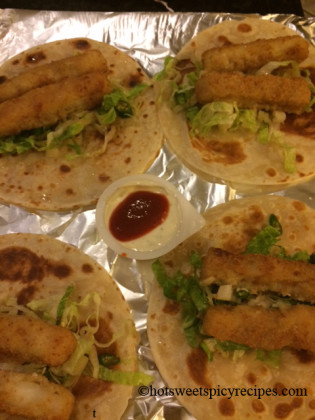 Directions:
 Grill or bake the fish sticks, I prefer to buy the chunky fish sticks which actually have fish, and not fish pulp.
Cook the uncooked flour tortillas on a griddle with a small drizzle of oil to keep the tortilla crispy yet moist.
To prep the fixings, chop some Romaine lettuce, chop cucumbers, slice green or red peppers, slice 4 avocado slivers, chop the jalapeno after deseeding it, and chop the cilantro.
 Now set the cooked tortillas on a foil, and lay out all the taco fixings on the tortilla and set the fish sticks. Top it with Salsa, the Sriracha and Ranch combined spicy sauce, salt and pepper, a dash of lemon juice, and optional feta cheese or any
shredded cheese.