No trip to Philadelphia, the city of brotherly love, is complete without devouring a large Philly Cheese-steak Sandwich or doing the Rocky on the museum steps.  Since we had limited time, I choose to do only the first, but have been to the museum few times before;) Based on the fame from Food Feuds, I wanted to head either  to Pat's King of Steak or Geno's. I mentioned this to one of the local guys we were working with and he said, "Well, if you want to be like a tourist you can go to one of those, but if you want to go to where the locals go, find Ishkabibble's."
I looked it up online and found Ishkabibbles on philacheesesteak.com domain, and they  looked interesting.  The reviews were consistently  great. And that name,… there was  something weird about it.  I looked it up and fond  a comedian with that name and also its yiddish origin which loosely meant "I should not worry"; all this had made this place more interesting. Our local contact reminded us  that it is a hole in the wall place (which I love) and could be an easy miss. After passing the street guided by our trusted Google maps navigation, we parked our rental car in downtown Philidelphia and headed to the place. This is the old part of Phili with small shops selling gifts, jewelry, t-shirts and small eateries. Also noticed the ubiquitous halal carts on the corner especially after the recent trip to NYC.
We walked towards the place and saw the sign; it was definitely a hole in wall place with  colorful trash can close to it. Should I be worried? 🙂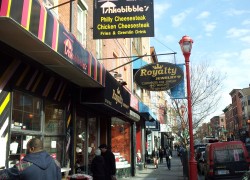 We walk in and it is basically a small lunch bar with a few stools for people to sit on. The back wall is covered with pictures of celebrities who visited this place. Lots of them. We had our own brush with celebrity sighting while eating when we noticed Eric La Salle from ER walk in and order his chicken philly cheesesteak. I guess he was trying to stay healthy!
We looked up the menu and I went for the main item on the menu. A full philly cheesesteak with pretty much all the fixings on it. I wanted to go for the whiz cheese but decided against it since I was wearing a nice white shirt and my own history  with messy food would guarantee that I would have some yellow whiz spot on my white shirt before heading back to the office. Hence I got American cheese. My friend got provolone cheese. We also ordered some fries, again without the whiz on top. Did not know about their special drink called Gremlin (1/2 grape and 1/2 lemonade), otherwise I would have tried that too.
We sat down to enjoy the show of our sandwiches being prepared by an old hand. You could/ see it in the precision of his handling of thick slices of meat, cheese and toppings and the way he beat them together strong but carefully. Our orders were up fairly quick. We arrived at this place just around 1.30 p.m. and found sitting space. But within a few minutes of us being there, the place got very full and people were standing right behind us rubbing each other in the narrow alleyway. Maybe they followed the celebrity.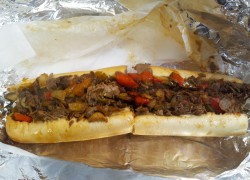 The sandwich was very much as expected. Thick and juicy. Wrapped in a silver foil. The combination of onions, green, red and sweet peppers, mushrooms, meat and cheese were in perfect harmony with each other. I added a little bit vinegar to give it a bigger kick.The fries were crispy and fresh. I can see why people were topping it with cheese. I am sure the crispy fries and gooey cheese would go well. Reminded me of Poutine from Canada. I noticed none of us talked while eating. Yes, it was that good. The sandwich was so big that it took an effort near the end especially since the order of small fries was fairly big for both of us to finish.
By this time, we noticed that people were eagerly waiting for our sitting space. We were done in and out in about 45 minutes max, and it was an absolutely enjoyable experience. I quickly sent a note of thanks to our friend who introduced us to this place. Another amazing hole in the wall. Very satisfying experience.
Cuisine: Italian, Burger and Sandwiches, Philadelphia
Price Range: Average
Rating: ***.5(3.5)
Website: philacheesesteak.com
Location: 337 South Street Philadelphia, PA 19147-1518 ph: (215) 923-4337
Food Reviewed:
Philly Cheese Streak