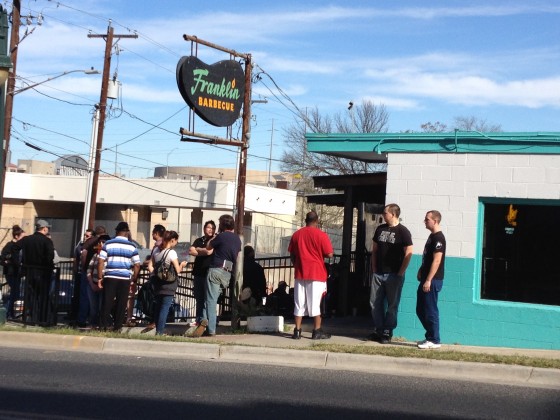 One Tuesday morning when the kids were off from school, my husband decided it was a good day to eat at Franklin Barbecue. He packed his laptop, my older one packed her homework, the younger one got a book and I had my handy dandy Iphone.  We were prepared for the famous long lines before lunch to catch America's best  Barbecued  Beef Brisket  as named by Bon Appetit right here in downtown Austin!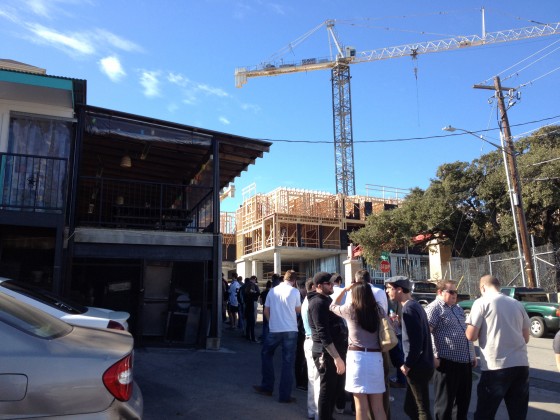 The line was already long when we reached there; this was even before the restaurant had officially opened for business.  I and my younger one with the book joined the line while the other 2 decided a nearest coffee shop was a good place to get their work done. People had picnic chairs, thick books, cameras, ipads, phone calls to do, groups of friends catching up, facebooking, twittering, emailing, all possible things happening to pass time.
When the restaurant opened, waitresses took our tentative lunch orders to get an understanding of how far in the line was guaranteed the beef brisket. After taking the tentative order, she gave out a sign called  "Last Man Standing"  to the Canadian couple behind me . This triggered some people later in the line to leave since their wait would not have guaranteed them beef brisket…… there are other things offered in the restaurant,  but it's for the Beef Brisket  people  don't mind waiting hours in long lines;)
The outside and inside decor of the restaurant is low key. The seating is on the red painted chairs around odd sized wood and metal tables. The priority is best Barbecue and only best Barbecue. The Franklin couple, in spite of the incredible popularity of this place are modest, friendly folks who are involved in the restaurants' cooking, serving and checkout process.
We ordered 2 pounds of fatty beef Brisket and potato salad for side with drinks. The brisket was juicy, yet crisp, rich in flavor, amazingly delicious, and perfect. One has to eat this to know what perfect barbecue is! There were three kinds of sauces to dress it up if you wanted, Expresso, vinegar and Texas style too. The potato salad was mustardy which was liked by part of our family, but Beef Brisket got an absolute five star vote from all of us.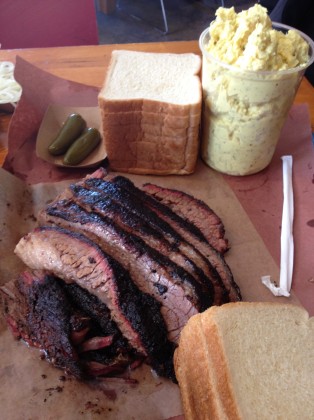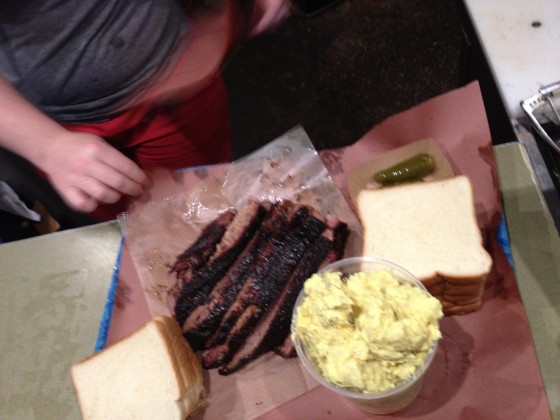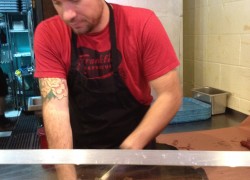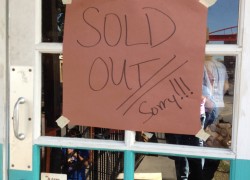 Yes it's worth the wait. If you have time on hand on a weekday or weekend and love barbeCue, Franklins is a good destination 😉
Cuisine: American, Barbecue; Austin Must Eats
Price Range: Average
Rating: ****
Website: http://franklinbarbecue.com/
Location: 900 E. 11th Street, Austin, TX 78702
Food Reviewed:
Beef Brisket
Potato Salad
If anyone wants to know if the magic of Franklin Barbecue is in his recipe! Aaron seems comfortable to share his simple recipe. This recipe was published in a cook book called Texas Eats by Robb Walsh. But I believe the magic of the delicious brisket is not the recipe but his art of cooking 😉
 Aaron Franklins Butcher Paper Brisket
Serves 10
1 (8to 10 pound) firs quality beef brisket, untrimmed
Salt and coarsely ground pepper
¼ cup Worchestershire sauce
¼ cup water
Sprinkle the brisket on both sides with salt and pepper. Combine the Worchestershire sauce and water in a mister.
Prepare a fire for indirect heat cooking in your smoker (the coals on one side only) with a water pan. Use wood chips, chunks or logs and keep good level of smoke. The smoker is ready when temperature is between 275°F and 300°F.
Put the brisket in the smoker on the cool side of the grate and close the lid. Cook for 6 hrs, adding wood as needed to keep the fire burning evenly. At this point, test the brisket with an instant read thermometer; the internal temperature should be 165°F.
Remove the brisket from the smoker, spray it with Worcestershire solution, wrap it in butcher paper, and return it to smoker. Let is cook in the Paper for 2 hrs longer.
Remove the wrapped brisket from the smoker and place in an empty cooler or a 200°F oven for 3 to 4 hrs. The brisket is done when a toothpick passes effortlessly though the fat or an instant- read thermometer inserted into the center registers at least 185°F ( but preferably as high as 230 °F)
To ensure the brisket remains moist, do not trim away the fat cap before serving. Slice only as much brisket as needed and serve immediately. The remainder will keep well wrapped in the refrigerator for up to one week.
Other Links about Franklins Barbecue:
http://www.bonappetit.com/magazine/slideshows/2011/07/aaron-franklin-barbecue-best-restaurant-in-america#intro
http://www.travelchannel.com/video/austins-franklin-barbecue
http://www.nytimes.com/2011/06/19/us/19ttpatoski.html
http://www.foodandwine.com/restaurants/franklin-barbecue
http://www.washingtonpost.com/blogs/all-we-can-eat/post/aaron-franklins-barbecue-tutorial/2012/11/12/e9fdcfa0-2c6f-11e2-89d4-040c9330702a_blog.html
http://www.austinchronicle.com/food/2011-06-24/franklin-barbecue/