Fig Preserves
Figs are extraordinarily delicious and nutritious fruits. This delicate and plush looking fruit, with its pink and purple hues when ripe, with a luscious pink heart inside has distinctive taste. To preserve and enjoy blessings of our home grown brown turkey figs, I made the sweet Fig Preserves. The fig preserves taste amazing with salty crackers and cream cheese and other savory combinations. It tastes great for breakfast on French bread, or as a topping on your ice cream dessert!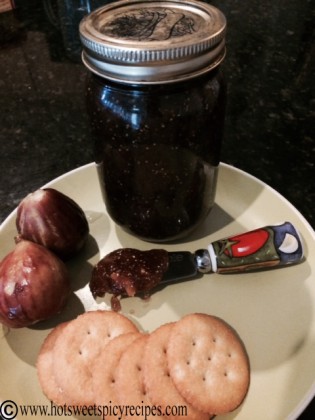 Author:
Birjis Adeni Rashed
Ingredients
3 pound fresh ripe figs, washed, stemmed, sliced
3 cup sugar
Juice from ½ lemon
Orange zest-1 pinch
Instructions
Wash the figs, remove the stems and cut them to slices.
I used brown turkey figs from my fig tree. They are known to make better preserves than the green figs.
In a medium saucepan, mix figs and sugar together and cook on low heat, uncovered, about 1hr 30 minutes or as required. Keep stirring in intervals.
Add lemon juice and orange zest when the jam starts coming together and cook on extremely low flame.
When done pour the hot preserves mixture into a hot, sterile glass canning jars and store in cool dark place or refrigerate. Since I just made for immediate use, I elected to just refrigerate.
If processing for long term follow canning methods by pouring the hot preserves mixture into a hot, sterile glass canning jars, filling jar to within ⅛-inch from top; wipe rim and seal jar with lid. Put jar in water-bath canner or on rack set in a deep kettle and cover with hot water by 1 to 2 inches. Bring to a gentle simmer (180 to 185 degrees), and process, covered, for 5 minutes. Transfer jar to a rack using tongs and let cool completely. This jars can be stored for long term in a cool, dark place.