Curried Brussels Sprouts
Brussels sprouts are very European and western vegetable and not known in the Indian kitchens. But this uncommon vegetable when curried with Indian spices, tastes amazingly delicious. Here is a simple example of east meets west fusion.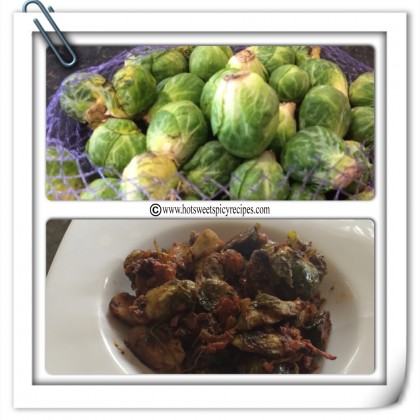 Author:
Birjis Adeni Rashed
Cuisine:
Fusion of east and west
Ingredients
1 lb. Brussels sprouts,
¼ tsp. black mustard seeds
¼ tsp. whole cumin seeds
5-6 curry leaves
1 dry red chili pepper
¼ tsp. cumin powder.
½ tsp. red chilli pepper powder
¼ tsp. turmeric
¼ tsp. garlic paste
¼ tsp. ginger paste
1 small onion
1 tomato
Salt to taste
1 tbsp. cilantro, chopped
1 tblsp. Oil
½ tblsp. olive oil
Instructions
Wash and split the small Brussels sprouts in half and set on a baking tray. Drizzle some olive oil and set in oven for few minutes till tender and set aside.
Chop onion, tomato, and cilantro and set aside too.
Heat oil in a pan, when its warm, toss in the curry leaves, dry red chili pepper, whole cumin seeds, and mustard seeds, and watch till they sputter and sizzle. Add the garlic paste, ginger paste, and chopped onion and sauté till soft. Add chopped tomato and spices like red chili pepper, turmeric, cumin powder and salt and sauté further.
Toss in the baked Brussels sprouts and cook on low flame till the flavors of the spices are married into the sprouts. You can steam the Brussels sprouts instead of baking as an alternative option before cooking it with the spices. Garnish with cilantro and serve warm.