Thai Spice, Lakeway,  is great place to go for lunch. I have almost always gone there for lunch rather than dinner, since the options at lunch time are impressive.  We have met friends here for lunch, celebrated birthday lunches, or just felt like eating Thai and made it to this place for lunch!
The best time to eat here is lunch time because, this place offers an appetizer/sushi buffet  at noon which can be your exclusive lunch or  if you prefer to order from the menu, you get a chance to taste the sushi, the appetizers, and the soup offered in the buffet besides your order from the menu!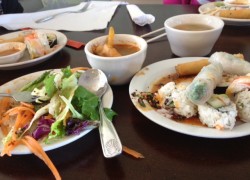 I love to try the soup of the day; sometimes its  Tom kha, or Egg drop or Hot and Sour or many other options, but all  are good, especially the Tom Kha.  The salad too is fresh and eaten with the peanut sauce as dressing it's the most delightful salad. The Sushi options are so many that my children love the ability to try different ones offered. Besides this, in the buffet are appetizers like spring rolls or fritters which are all delicious treats.
One of my visits to Thai Spice was with my kids when their school had a holiday. All of us in our family love Thai food; and my kids love Thai food and Sushi, which makes their day!
On this visit, we were lucky to get our order taken by the owner Tut Vicha himself , who is a simple and modest man. He loved the enthusiasm of my girls who ordered spicy versions of their Pad Thai and  Pad Kee Mao. I too of course ordered the spicier version of Basil Sea Food curry.  Till our orders came, we picked up our favorite sushi and soup and enjoyed our delicious lunch.
Any authentic Thai restaurant can be rated with the Pad Thai they serve, and Thai Spice gets it perfectly scrumptious. The Pad Kee Mao was equally delicious and my girls loved the spicy version of their specialties very much..  The Basil Seafood Curry  I ordered had a good amount of shrimp, squid, scallops  and mussels, and  with extra spice like I asked it was distinctively flavorsome and delectable.
We have gone there many times to this location in Lakeway and have recommended it to many more. But we will remember this wonderful afternoon spent eating great Thai food in a nice ambiance with my lovely girls.
Cuisine:  Thai
Rating: ****
Website:  http://thaispiceaustin.com/
Location: Lakeway
2121 Lohmans Crossing Blvd.Suite 500 lakeway,Texas 78734
(512) 263-2221
 Foods Reviewed:
Pad Thai- Rice noodles,egg, bean sprouts, green onion, cilantro, and ground peanuts
Pad Kee Mao-  Rice Noodles, Tomato, jalapeno, garlic, chilis, bamboo, broccoli, Chinese broccoli,  and basil
Basil Sea food curry – shrimp, squid, scallop,mussels, green bean,mushrooms,onion,red bell pepper, jalapenos,garlic and basil  with rice
Appetizer Buffet ( Sushi, Soup, Salad, spring rolls)