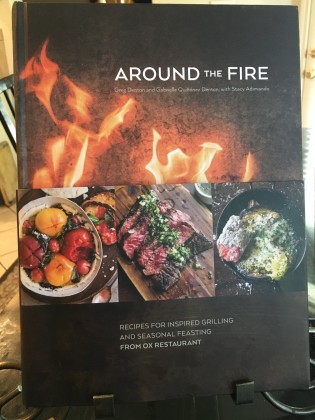 Around the kitchen, around the barbeque, basically around the fire, so many memories are made, delicious food is cooked, eaten and enjoyed with family and friends. Barbeque grilling in backyards in summers is specially a good time to get around the fire, and with new recipes to try, more the reason to!
The Book "Around the Fire" written by the Chefs Greg Denton and Gabi Quiñónez Denton of Portland, Oregon has recipes inspired by the live–fire cooking traditions of Latin America and their  seasonal philosophy  of their Portland restaurant – OX. Hence the book has recipes not just for grilling meats but cooking seasonal produce with recipes of salads, starters, sides, desserts and drinks.
In an ode to Argentina, I too wanted to start of the book with making a small mason jar of their Argentinian traditional condiment of Chimichurri sauce to create herbaceous and acidic flavor to the fire cooked meats.
Having fresh herbs growing in my backyard, I was happy to make this delicious OX's Chimichurri sauce and enjoyed farm to table experience right in my home!
OX's Chimichurri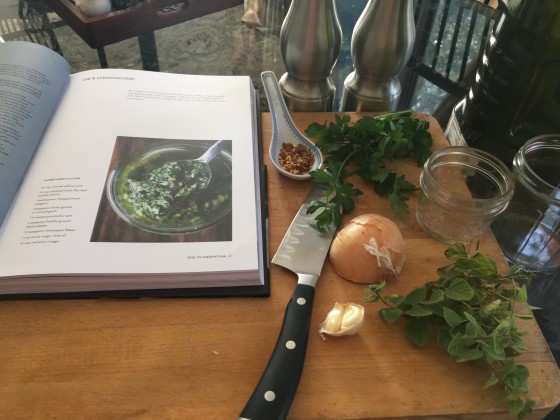 In a medium bowl or jar combine the Onion parsley, oregano, garlic, salt, black Pepper and red pepper. Add the oil and vinegar and mix well, store covered for couple of days and use before herbs start to turn brown.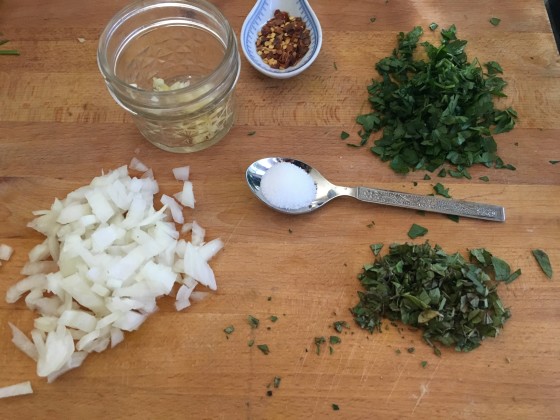 ½ cup minced yellow onion
½ cup chopped fresh flat- leaf parsley leaves
1 tablespoon chopped fresh oregano
1 teaspoon finely grated garlic
½ teaspoon kosher salt
1 teaspoon freshly ground black pepper
½ teaspoon red pepper flakes
1 cup extra-virgin olive oil
½ cup red wine vinegar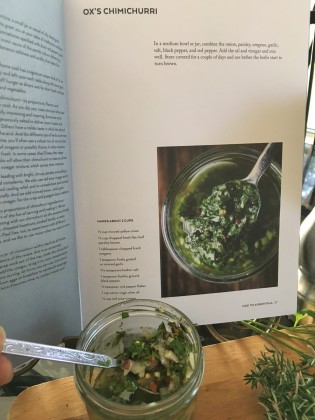 I used my chimichurri sauce to add extra herbaceous flavor to my tandoori marinated leg of lamb and it was excellent. I have more to apply to some lamb chops and grill next time!
While doing the "Mise en Place" or "setting things up" for the actual grilling process, I decided I will also make the seasoned basting oil  recipe in the book , since I had so many fresh herbs  ready to pick from my backyard.
This elixir is called Black God by the Dentons, because the oil they use mixed with herbs is actually black. The oil is collected from the fats, oils and juices of the meats on the grill, channeled out separately before it drips on the coals.  The chefs hence suggest home cooks to fake the seasoned basting by rendering any animal fat and warming it with fresh herbs and citrus.
Black Gold- Seasoned Basting Oil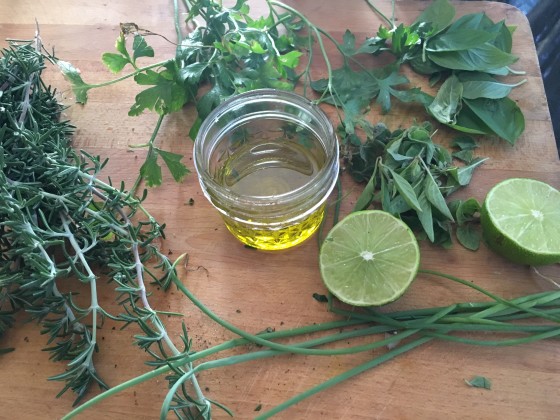 1 ½ cups rendered fat like duck fat/ beef fat / unsalted butter / extra virgin olive oil ( or ghee)
8 to 10 springs of assorted fresh herbs such as Basil, Oregano, Thyme, Rosemary, Parsley, and any other herbs growing in your garden or in your refrigerator.
2 green onions
1 head garlic, halved crosswise
1/2 lemon
Place any fat or combination of fats ( I used extra virgin olive oil, butter and some ghee) in a small pot over heat. Add the herbs, green onions, garlic and lemon half and cook just until the herbs begin to wilt, but not sizzle. 140 F to 150F . Remove from heat and let sit for 15 minutes so that the flavors can marry. When using to baste, warm it on grill. Strain before storing and refrigerate for up to a week. Add more herbs upon rewarming.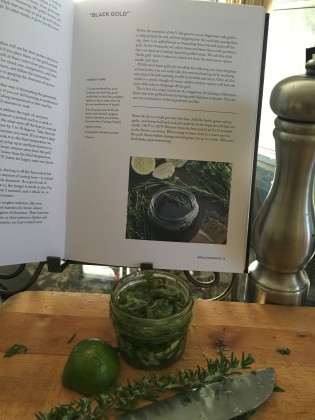 The book has a lot of recipes for grilling  meats, seafood, fish;  grilling  vegetables  like mushrooms, zucchini, eggplant, artichokes, asparagus,, sweet onions, butternut squash, potatoes  and fruit like peaches and bananas . But other recipes like making clam chowder, shrimp ceviche, mussel poke,  empanadas, kale and radicchio salad, cucumber and strawberry salad, roasted cauliflower, stewed hominy, and desserts like honey chamomile ice cream, chocolate cake, strawberry–cherry sorbet and Tre Leches cake. Yum.
If you enjoy grilling, this book encourages you to adventure into many things. Our next recipe to try from this book is the Grilled Beef Skirt Steak with onion marinade. Looking forward…..
I received a copy of this recipe book from blogging for books and I am looking forward to grilling adventures.