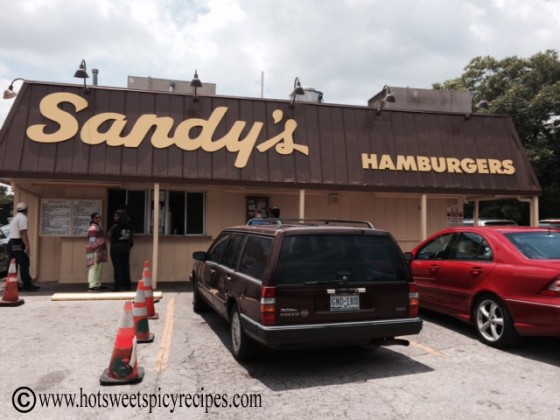 Sandy's Hamburger is a very old Austin iconic landmark located in a prime location near Barton Springs,  Zilker Park, Palmer auditorium and Long Center of performing arts, in downtown Austin.  Sandy's has been in Austin since 1946 and is very popular for its frozen custard.  It's basically a  Drive-through  with an optional  dine-in burger shack .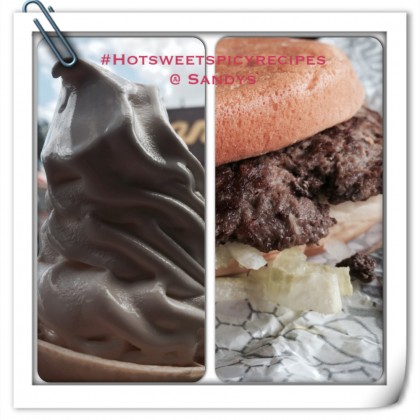 We recently ate in Sandy's on our way to the Capital to participate in a peaceful support march. Since we had some time on hand we decided to dine in the picnic shack seating in the back of the drive through.  We ordered the old fashioned hamburgers without cheese, and the chili cheese and onion hamburgers ( on asking, we were told the chili was all beef chili )  root beer and fries.
I highly recommend skipping the dining shack in the back and enjoy your burgers and custard through drive in only.  The shack seating is not very clean and is highly populated with pigeons and crows as your dining companions.
The burger meat was of good quality but I found my burger little dry in the mouth irrespective of lettuce and tomato etc.  Skipping the cheese  in my 'old fashioned  hamburger' could be reason of the dryness. But the 'chili cheese burger and onion hamburgers' were juicy and excellent.  The fries were  crisp and tasteful too ,while  their home brewed root beer was perfect.
And of course we had the  popular custard too which we picked  up drive thru as a culmination of the day after the march.  Their custard truly is delicious and has good reason for its popularity. Though I was hesitant to add more calories for the day, I am glad my family who has eaten Sandy's custard before cajoled me into ordering it. YUM.
Cuisine: Burger and Shakes
Price Range: Average
 Overall Rating: ***
Location: 603 Barton Springs Rd, Austin, TX 78704
Dishes Reviewed:
•             Old Fashioned Hamburger , with lettuce, tomatoes, pickles, onions and mustard.
•             Chili cheese and onion Hamburger
•             French Fries
•             Root Beer
•             Custard in a cone
•             Hot Fudge