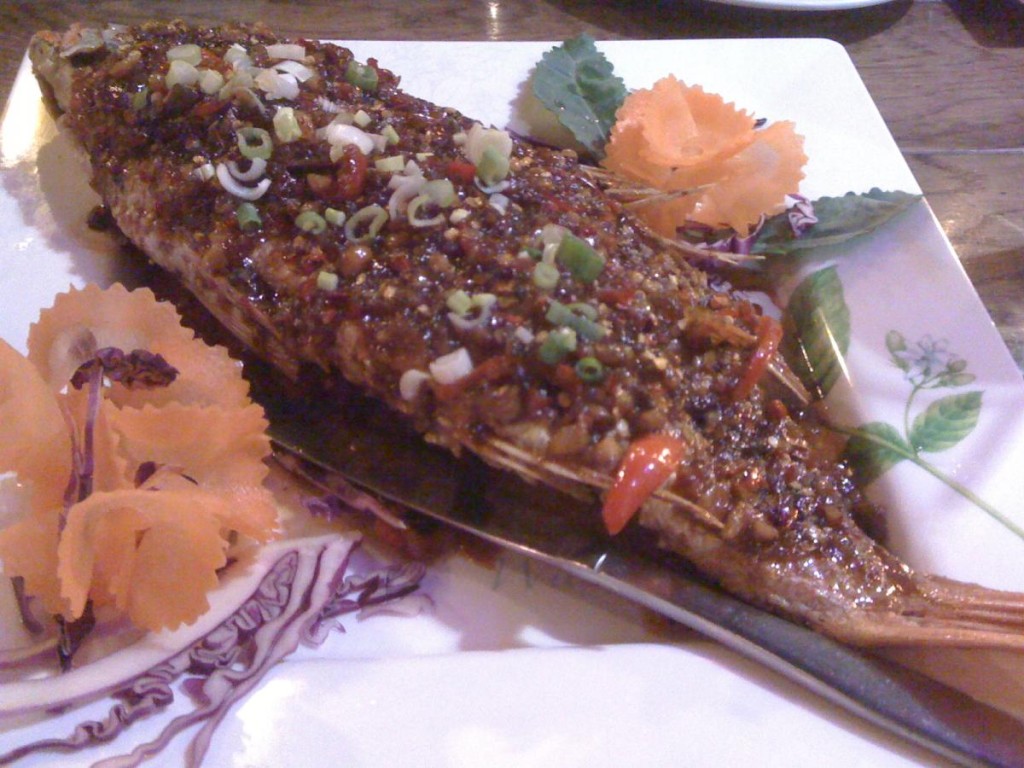 NaraDeva Thai  is the best Thai Restaurant  I have eaten in USA! For a person who loves Thai cuisine and has tried out Thai food in so many places and cities across America, this is a big vote, but it's true!
The restaurant has not much of an exterior presence due to being in a strip mall with a Krispy Kreme donuts, Target, and BJ's.  But when one steps in, you see beautiful and tranquil environs. The ambience of the restaurant is peaceful and serene with wood and bamboo work with Buddha sculptures and intricate wood work.
Its fate or good luck which led us to this restaurant that day, and we totally thank our fate. After an adventurous and exciting day in the Wizarding World of Harry Potter andUniversal Islands of Adventure we wanted to relax and have a good dinner before we go back to our hotel on our vacation in Orlando.  Driving back from Universal Studios, fate led us to this strip mall and since it was a wet rainy day, it was perfect day to eat some hot and spicy Thai cuisine.
We started with soup and ordered 'Spicy and Sour Lemon Grass Soup (Tom Yum)'
a hot and sour broth, with tomatoes & mushrooms, flavored with aromatic herbs, lemon grass, galangal, kaffir lime leaves, dried chili and lime juice with shrimp; And 'Coconut Milk Soup with Mixed Sea Food (Tom Kha)', a spicy & sour  coconut milk & galangal soup with lemongrass & mushrooms with seafood and jumbo shrimp. Both these soups we had ordered spicy, and they we amazingly delicious and mouth-watering. The ingredients in the recipe were a blend of perfection.
To follow this course we ordered the entrée of  'Pla lad Prik  a deep-fried  whole snapper. Its served  with sweet chilli sauce, red chillies, garlic and bell pepper or the  tangy Thai sweet & sour sauce with onions, tomatoes, bell peppers, cucumbers,  pineapple chunks and jasmine rice. Pla lad Prik is  a Thai specialty, and our  favorite entrée on the Thai menu. Sadly it's not offered in all Thai restaurants, and even if it is; it's not as scrumptiously delicious as this one at NaraDeva!
The whole dining experience at Naradeva was excellent. The service by the wait staff was   pleasant and efficient. The owners of the restaurant Ali and his Thai wife were very friendly and hospitable to all the customers at the restaurant. When the gentleman noticed our exuberant pleasure in our dining experience he came over and struck conversation with us.  We were genuinely impressed with him, his restaurant and the delicious Thai food and applauded him.
If you want to eat excellent Thai food and live or vacationing in Orlando, Florida, or visiting Universal Studios, put Naradeva as a must eat restaurant in your travel plan!
Cuisine:  Thai
Rating: ****
Facebook Page: https://www.facebook.com/NaraDevaThai#!/NaraDevaThai?sk=app_14167664298
 Location:  4696 Millenia Plaza Way, Orlando, FL    32839;  Phone# 407-903-0300
Foods Reviewed:
– SPICY & SOUR LEMONGRASS SOUP WITH SHRIMP (Tom Yum)
– MIXED SEA FOOD COCONUT MILK SOUP (Tom Kha)
– DEEP-FRIED WHOLE SNAPPER  WITH SWEET CHILI SAUCE(Pla lad Prik)