My Mother often says, once you know the basics of cooking, you can develop so many recipes building on the basics. Hence I agree with Mark Bittman 100% when he says "if you can cook 10 recipes, you can cook 10,000". In his new book- Kitchen Matrix,  reinstating this philosophy, he lets you get creative with each ingredient with a little tweaks, swaps  and variations,  transforming  and creating new recipes making you enjoy a wide range of new tastes.
The Book is loaded with hundreds of concise recipes for appetizers, soups, sandwiches, vegetables, grains, seafood, poultry, meat, fruit and desserts.  Each of the ingredients are done 10 or 12 different ways, making us  just change a few ingredients each time for a brand new recipe, flavor and taste. There are 16 ways to cook a bell pepper, 12 ways of making eggplants, 4 ways to make Dal, 12 ways to cook lobster, umpteen ways of making chicken and seafood, 12 ways of making salsa, lot more ways of making cookies and desserts and even 12 ways of making interesting ice pops.  He also has a cheat sheet to making fresh homemade spice seasonings and condiments which will accentuate any recipe.
The book is very well laid out and surprisingly caters to all kinds of chefs, the pro, the innovator and the amateur. The simple recipes can be innovated on, or just the ingredients and steps followed to the T to produce delicious results. The stunning photos of each recipe, are so appealing that you would want to try out all. Besides, these  exquisite pictures also gives us the idea of how the end product of the recipe looks like.
I got this book few days back and have been craving to try out new recipes. Yesterday in spite of a very  busy day I made this recipe of a Bean soup perfect for solving my mood for an earthy  warm soup and easy enough to get done without much effort.
 Bean Soup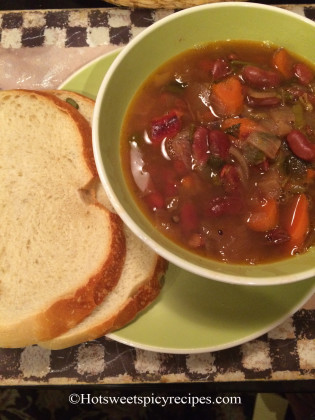 Mark Bittman's recipe: Put 1 ½ cup dried beans, 1 chopped medium onion, 2 chopped carrots, 2 chipped celery ribs, 2 bay leaves, 1 tablespoon fresh thyme and 6 cups water in a pot over high heat. Bring to a boil, lower the heat, cover and simmer until the beans are soft at least 1 hour, adding more water if necessary. Season with Salt and pepper. Garnish: Drizzle of olive oil.
Birjis Rashed's variation: Pressure cook 1 ½ cup dried beans with 3 cups water, it expedites the process of cooking. And while the beans are getting pressure cooked, chop 1 onion, 2 carrots, 2 celery ribs, ½  a Leek, 1 tblsp fresh thyme, and keep ready.  Take a pot and warm some olive oil. Add a dash of chopped garlic, little ginger and the chopped onion. Saute this lightly, and drop in the other chopped vegetables, 3 bay leaves and herbs. Besides seasoning with salt and black pepper, I added some spice of 1 tsp of red pepper and  ½ tsp cumin powder. When these are sautéed together, and beans pressure cooked, drop these vegetables and beans into the slow cooker with more cups of water.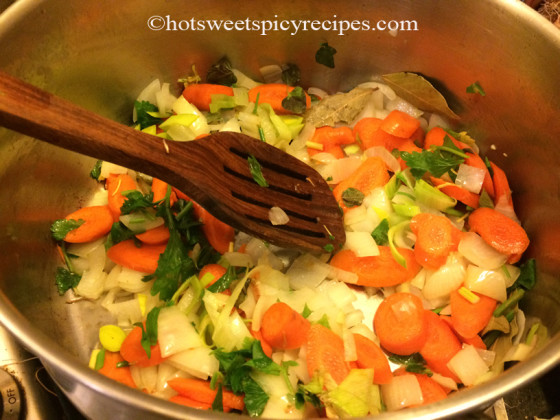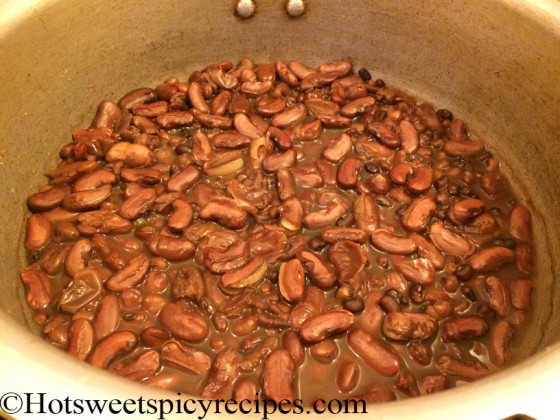 Let it slow cook and stew into a hearty soup of high protein beans and healthy vegetables. This soup was great paired with some sourdough bread.
Bittman encourages improvisation with his recipes and I did just that. I expedited the cooking of beans by pressure cooking it since I like my beans soft in the soups. Next I opted for sautéing the vegetables in little olive oil while giving the onions a roasted flavor, instead of drizzling the oil in the end. I also added some spice, since I like most things spicy;) And lastly I opted to let it slow cook in my crockpot while I was away taking care of kids after school extra-curricular activities and other errands. While shopping I also picked a fresh sourdough bread from the bakery to go with my soup.  The best part was after a long busy day, we enjoyed a hearty warm dinner ready to eat as soon as we were back home.
For today's dinner, I decided to try outa shrimp recipe. Mark Bittman has 12 ways of Shrimp listed in his book, each recipe as alluring as the other.  I had the perfect bag of raw, frozen, peeled, deveined, shrimp with tail on from my grocery shopping other day.   I felt the Broiled Cajun style shrimp would be a great appetizer before we eat a bowl of our left over Bean and vegetables soup from yesterday.
Cajun Style Shrimp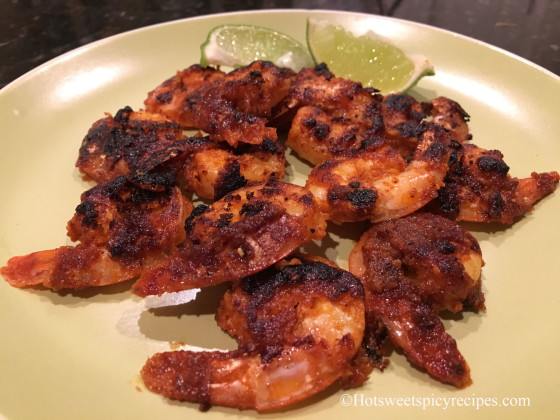 Mark Bittman's Recipe: Turn on the broiler, put the rack close to heat. Mash 1 garlic clove, with 1 tsp salt until it forms a paste. Add to it ½ tsp cayenne,1 tsp paprika, 1 tablespoon lemon juice, 2 tablespoons olive oil, and lots of black pepper. Rub the paste all over 1 ½ pounds of peeled shrimp. Broil for 2 to 3 minutes per side. Garnish with lemon wedges.
Birjis Rasheds Variation: I followed this straight forward and simple recipe completely with the only addition of extra red chilli pepper powder besides the cayenne and paprika. Well since I like things spicy 😉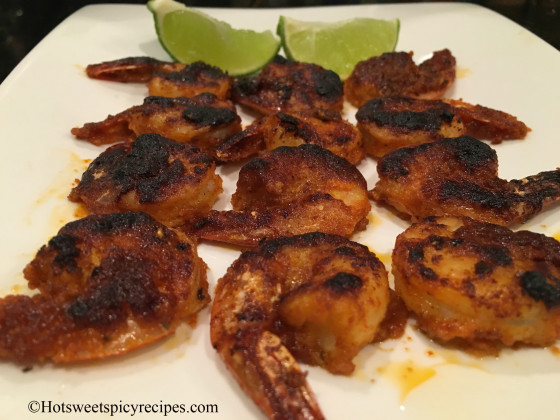 The Shrimp were so finger licking good, I intent to make this recipe soon and serve asappetizers when we have guests at home for the holidays.
I am enjoying the cooking adventure with Bittman's Kitchen Matrix  and  with so many more  interesting recipes to try, I look forward to many  fun and delicious dinners and desserts with this book.
I received a copy of this book from Blogging for Books and I love it.
Author: Mark Bittman
Book: Kitchen Matrix
Review: Birjis Adeni Rashed  @ Hotsweetspicyrecipes.com