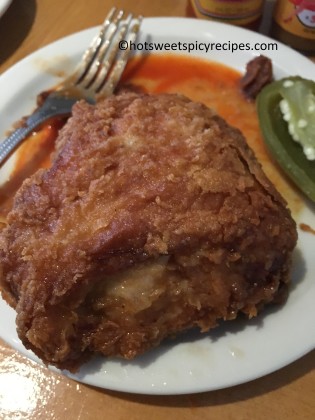 When Lucy's Fried Chicken opened their third location last month in Lake Travis area, so nearer to us, my husband was ecstatic that his favorite food was reaching out to him more! Ever since Olivia chef James Holmes decided to have exclusive soul food restaurant, catering to fried chicken in South Congress and later on Burnett, North Austin, we have celebrated all his birthday dinners, many outings, out of towner guests' tours, or acquainting locals to the fried chicken experience at Lucy's. And if that's not enough my husband frequents it for lunches to get his fix!
Lucys Fried Chicken opened its latest Lake Travis area location Dec 7th at the Old Iguana Grill Location, with beautiful lakeside views, indoor and outdoor seating, indoor & outdoor bar, stage for Live Music, a playground for kids, and of course their biggest USP- Fried Chicken. They upgraded the menu for a lake theme to include fire grilled oysters and seafood dishes, and specially catering to the Austin suburbia, an expanded weekend brunch menu!
To start of the New Year 2016 on a delicious note, we went out on a late lunch on Jan 1st to Lucy's on lakeside. The place is one of their biggest locations but still was pretty crowded with lot of people indoor and outdoor with lake view seating. We opted for indoor since there was a light chill in the air.
Lucy's by the Lake has its own new logo with bikini clad girl sign, the restaurant has a very distinct Austin quirky vibe like its other locations, the interiors have multiple eclectic pictures with some lake themed ones in addition and a constantly updated black board wall with colorful chalk write ups and drawings of the specials of the day. It even got updated while we were dining. Indoor, we were glad to seat on the square tables and chairs unlike the outdoor picnic benches which seemed a little narrow and more susceptible to knock down water glasses or silver ware from lack of room.
We checked out the updated menus of the new location after we were seated, but went ahead and ordered what we often ordered at Lucy's- an order of fried devilled eggs to start off the meal followed by a large 'Bucket O Chicken' heaped with fried chicken pieces in crispy breading. The devilled fried eggs are unique take of Lucy's with a devilled egg coated in crunchy buttermilk breading, served with spicy chicken skin topped aioli sauce. The serving of four eggs was perfect for us and disappeared quickly yet with a lot of pleasure. The Bucket of Chicken comes with a mountain of juicy fried chicken pieces in crispy breading with added pickles and jalapenos. The bucket has fried chicken legs, breast pieces and wings which is supposed to serve four and always more than we can eat. Each of us likes a different part of the chicken, so it is easy to divvy up. The chicken was fresh and warm off the fryer with a perfectly crisp and crunchy outside and succulent and juicy meat on the inside. Unlike other fried chicken, Lucy's is not greasy at all and the exceptionally flavored battered chicken is lip smacking scrumptious in every bite. The table has Lucy's brand fiery red head sauce which we dipped the chicken in but we requested a spicy ranch sauce too for additional taste. The pickled jalapenos and pickles added a real nice bite with the chicken. The Bucket 'O' chicken is served stacked with another bucket for throwing the bones which we used after devouring the delicious chicken with great satisfaction and joy. My husband with his chew more and eat slow philosophy worked on his favorite chicken breast pieces with more indulgence and contentment 😉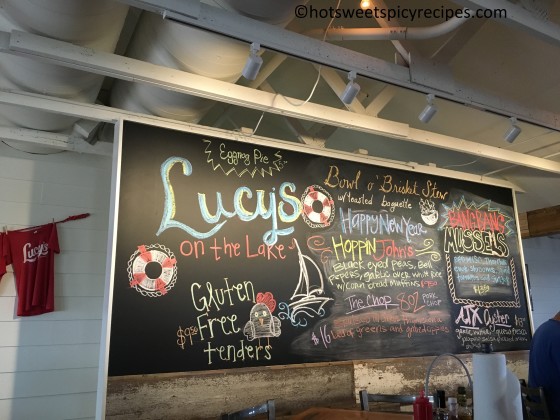 The whole dining experience was great except the service got hampered in the end. Though our orders were got in time and we were done with lunch, we had to wait a very long time for our server to bring our check. He had practically disappeared for a smoke or something, which delayed our plans for the afternoon. Luckily after getting our check we took care of the rest of the transaction quickly and headed out to take couple of pics by the lake to start the New Year with a memorable picture!
We are glad to have a great restaurant with our favorite kind of comfort food nearer home and definitely go there often 😉
Cuisine: Southern , American
Chef: James Holmes
Rating: ****(4/5)
Website: http://www.lucysfriedchicken.com/on-the-lake/
Location: 2900 Ranch Rd 620. N. Austin 78734; 512-297-2771 (MON-THUR 11AM-10PM FRI 11AM-11PM SAT 10AM-11PM (BRUNCH 'TIL 3PM)SUN 10AM-10PM (BRUNCH 'TIL 3PM)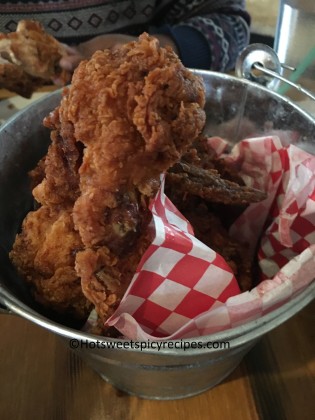 Food Reviewed
• Devilled Eggs
• Bucket O Chicken- Fried Chicken