Heavenly, fresh, moist, donuts which melt in your mouth!  Krispy Kreme donuts are so delicious, one can't describe it, you just have to eat it!  And if you haven't eaten Krispy Kreme's original glazed donuts, you haven't tasted good donuts ever 😉
Krispy Kreme, has this whole process of making and glazing the donuts in full view to be wowed of this sweet making process.   Over the many years, whenever we have been driving near Jollyville, we always  stop in our favorite donut destination – Krispy Kreme on 183 near Jollyville.  Sometimes we have even stopped at the Stassney store on the way back from Airport pickup welcoming our guests to the taste of divine sweetness.
Another amazing thing about Krispy Kreme is its  'HOT NOW'  feature. This is when the store lights up the 'hot now' light when their original  glazed donuts are getting made; and during the making process the hot off the pan donuts are served free to taste.
When its 'hot now' go taste a free donut and buy a dozen or more to take home.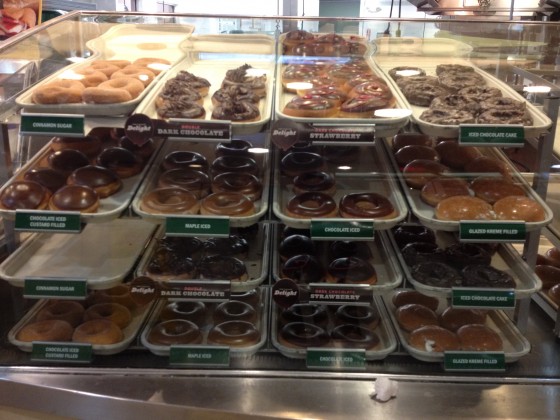 I plan to go again this evening on National Donut Day, to eat some Krispy Kreme donuts for dessert 😉
Cuisine: Donuts
Rating: ****
Website:  http://www.krispykreme.com
Location: 12586 Research Blvd(Jollyville)
Austin-78759
(512) 219-0119
Food Reviewed: