Kheema Fry / Minced Meat Curry
Kheema Minced meat or lamb or goat or beef chuck becomes quite a treat with this simple yet tasty Indian recipe. This dish is often eaten with parathas or naan. The kheema fry also makes a great filling in 'Kheema Puffs Pastries', Hyderabadi 'Lukhmi' and 'Kheema Samosas', all very scrumptious appetizers.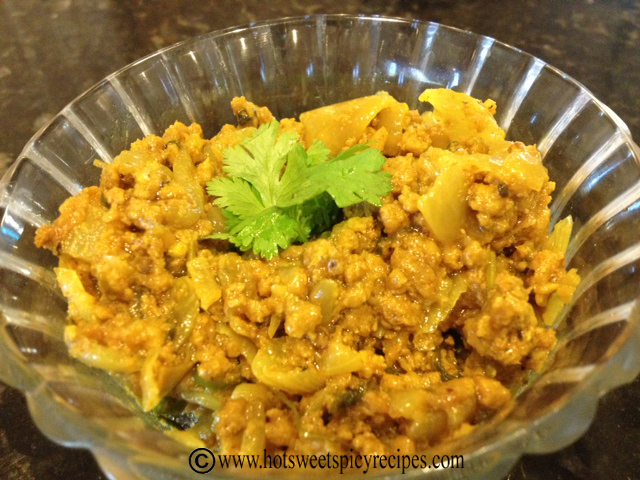 Author:
Birjis Adeni Rashed
Ingredients
1 lb minced meat / kheema
3 onion
4 green peppers
1 c cilantro or corriander leaves(chopped)
1 t ginger paste
1 t garlic paste
1⁄2 t black pepper
1 t red pepper powder
1⁄2 t turmeric
1 t salt (add to taste)
2 T oil
Instructions
Take a heavy bottom pan or a pressure cooker and add little oil. When the oil is warm add the ginger and garlic paste and sauté till it emanates a cooked pleasant aroma. Now add the minced meat which has been washed and drained of all the blood and water. The spices and salt need to be added to the meat to give it a perfect flavor and sauté it further.
To cook the minced meat, 1 to 2 cups of water need to be added and cooked in the cooker or pan with a tight lid. When the meat looks cooked, keep the lid open and let the water in the meat get absorbed. Next chop the onions and add to the meat and let it cook with closed lid till they get translucent and soft. Slit green chilies, chopped cilantro and freshly ground pepper should be added next and cooked on low flame. Garnish with fresh cilantro when serving.
Notes
The minced meat or kheema could be either beef or lamb. The same method can be implemented with minced chicken or turkey for a variation!