Pâtisseries at Bellagio and Aria. Las Vegas.
Jean-Philippe Maury enjoys the sweet life in Las Vegas!  He is executive pastry chef ofBellagio and  executive pastry chef of ARIA Resort & Casino. His expertise and passion for French pastry  are expressed  through his two Jean Philippe Pâtisseries, one located in Bellagio and the second in ARIA…..Hence he is the pied piper  to follow if you want to indulge in chocolate, candy or dessert;)
[Jean –Phillipe Maury,  after winning the 1997  title Meilleur Ouvrier de France – Best Pastry Chef in France  and other top honors which  brought instant international recognition, moved to USA.  At the 2002 World Pastry Team Championship, as a member of Team USA, Maury helped bring home the Gold Medal with an extravagant circus-themed centerpiece prepared entirely of chocolate. In 2004, two of Maury's assistants won the gold for Team USA again. As team coach, Maury now officially holds a double world title.]
The French Patisserie at Bellagio displays the artistic genius of Chef Jean-Philippe Maury with his creative display of a breathtaking chocolate fountain.  The chocolate fountain displays a spectacular series of melted chocolate cascades. The glass enclosed floor to ceiling chocolate fountain at Bellagio is officially the largest chocolate fountain in the world as certified by Guinness book of records.
The chocolate fountain measures 8 meters or 26 ft 3 inch tall and circulates 2 tons ( 4409 lb) of chocolate at  rate of 120 quarts per minute. The chocolates are white, medium and dark confessionary grade chocolate. The fountain is the efforts of two years of engineering, planning and design. It has about 500 ft of stainless steel piping and rises about 27 ft vertically from the pump room.
While standing in front of the fountain, you are awed by the creative genius of this fountain. The trickling chocolate mesmerizes and allures you to try out some chocolate 😉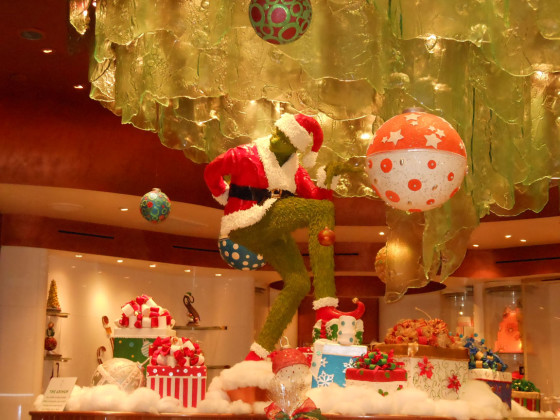 The patisserie also has amazing seasonal displays of cakes, chocolate sculptures and exquisite edible art. In the Christmas holiday season, the Bellagio patisserie had the Grinch theme. The place makes you feel like you have entered a set of  a dramatic Willy wonka's chocolate factory  or  cake and chocolate museum, where food is art.
The Patisserie at Aria features a larger layout, with café and kitchen, so besides an amazing displays of cakes, cookies, and exquisite chocolates, candies, nougats, jams, it has  a line of house-made gelato and sorbet, a crêperie  making savory or sweet crepes, salads, sandwiches and more. The décor is  Vegas style extraordinaire and stage like.
One night after dinner we picked our desserts from the Patisserie at Aria. Everything you see and eat here is indulgent. We savored some pastries, tarts, cheese cakes, croissants and cup cakes and each of them were uniquely delicious and divinely delectable.
Jean Philippe Maury Video
http://www.arialasvegas.com/dining/casual-dining.aspx#jp
Cuisine:  French Pâtisseries
Price Range:  Expensive
Rating: ****
Website: 
http://www.arialasvegas.com/dining/jean-philippe.aspx
http://www.bellagio.com/restaurants/jean-philippe.aspx
http://www.jpchocolates.com/

Location:
Patisserie at Aria
3730 Las Vegas Blvd S
Las Vegas, NV 89109
Pattiserrie at Bellagio
3600 Las Vegas Blvd S
Las Vegas, NV 89109