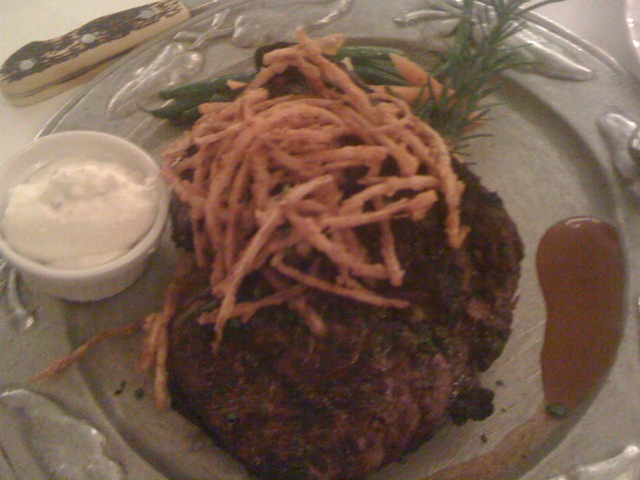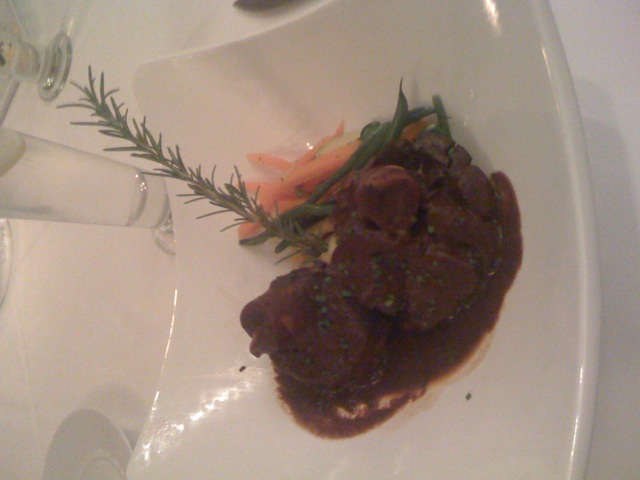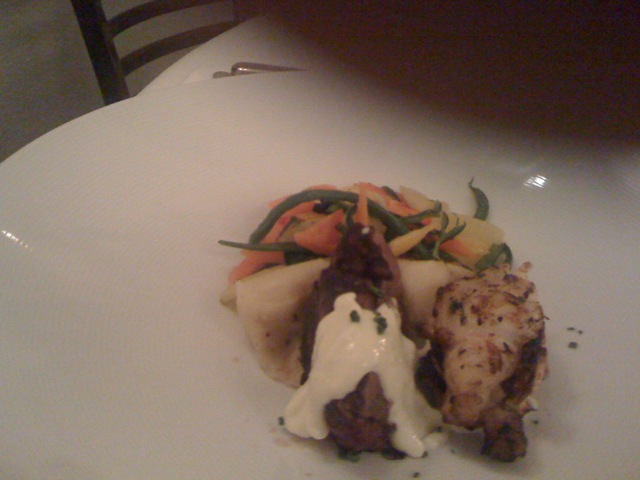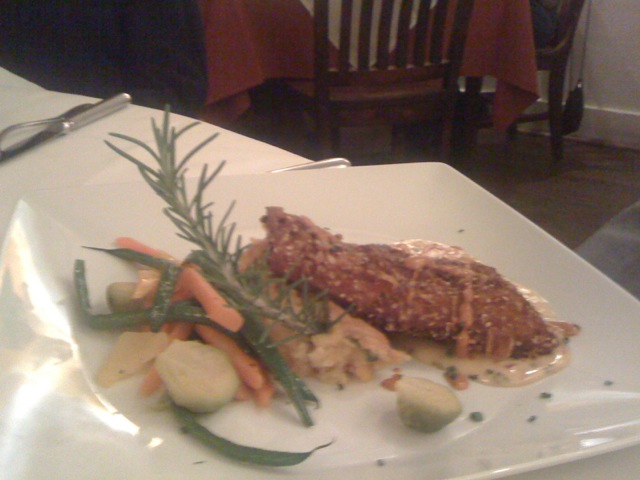 Venison, rattle snake, boar, elk, pheasant, quail, duck, lobster, fish, shrimp, lamb, pork and beef,…I am not just rattling  the possible game food, but listing the menu of  Hudson's on the Bend! This restaurant is famous for game food in Austin, TX. If you simply check out the menu online you can see the listed options but if you have the pleasure of eating there, you know why its famous. The food is perfect!
We recently went this holiday season to celebrate a birthday in the family. Sparkling lights decorated all the trees and entrances, and cactus decorated with ornaments were placed on the front picnic benches. Hudson's have the signature seasonal decors, in the summer they have beach chairs or umbrellas, in the fall, the pumpkins, if Lance is on a tour, bicycles 😉 etc.
When we entered through the enclosed patio, we were pleasantly amazed by the aromatic and creative décor of apples hanging as ornaments from the roof. This trend was replicated in several of the other lobbies and rooms.  In the rooms, the walls are decked with art work by Shanny Lott, a local artist and wife of the proprietor and executive chef Jeff Blank!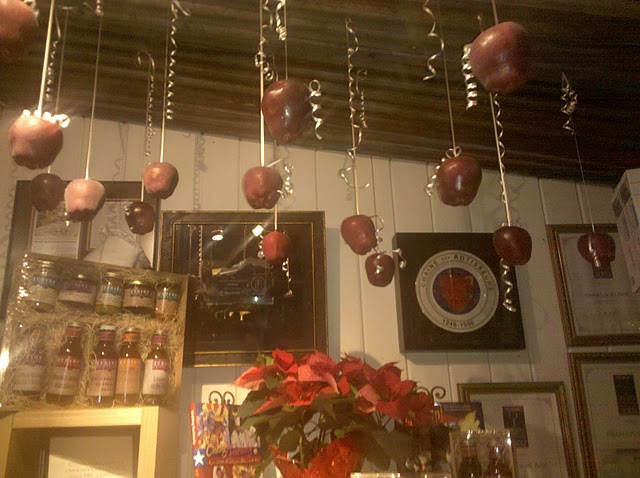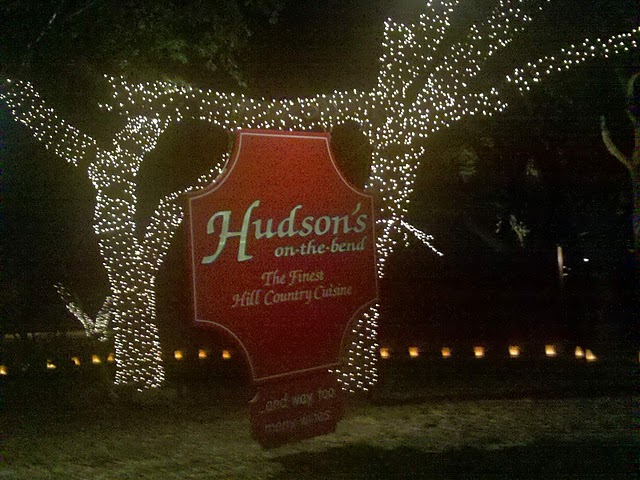 The décor is a combination of rustic and elegant with candle light tables, fresh roses and fine china. The service is attentive and courteous and makes the whole dining experience special. And of course to top it all the food is delicious and perfect.
When we got seated they brought in warm pumpkin bread with two butters, chipotle honey and garden herb butter.  For appetizers we ordered Smoked shrimp Quesadilla with goat cheese, pickled onions, avocado, and Mango Pico. The seafood quesadillas were excellent but we also got to try a venison tartlet with mango sauce which was outside the menu.
Each of us ordered different types of entrees and thoroughly enjoyed it all. I ordered the pecan wood smoked Rib Eye with crispy leeks with a drizzle of gaujillo sauce. The steak was cooked to medium rare, and it was perfect to the T. Each bite of steak with sauce on the side and pablono horse radish cream was scrumptious. We  also ordered Venison Osso Bucco; Pecan crusted Snapper; Hot and crunchy Ruby Trout; and Prime Tenderloin Beef topped with grilled Lobster tail. Each of these were delectable masterpieces especially the Osso Bucco with its succulent meat, lathered with the sauces with perfect blend of spices including ancho-chillies, bay leafs and garlic; and the  grilled Lobster which was luscious and appetizing.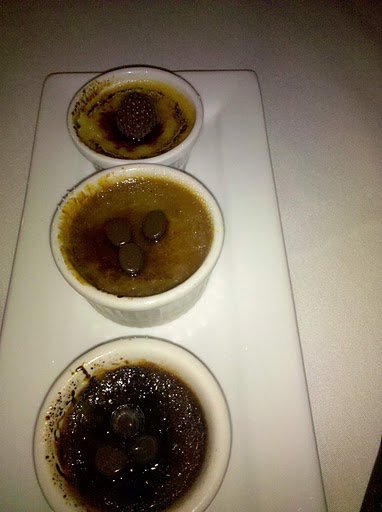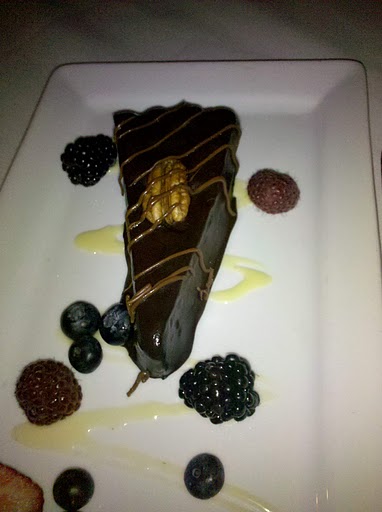 Our dessert orders were Crème Brule trio of vanilla, chocolate and cappuccino and wild turtle, a caramel pecan pie dipped in chocolate.  Both of these were heavenly and decadent. While we were eating our desert the attentive staff also offered to take our pictures since we were trying to take a picture of this special occasion. A guest next to our table also generously took our pictures and we have now good memories of this special occasion besides the amazing food and dining experience making things special!
Cuisine:  Game
Price Range: Expensive
Dress: Upscale Casual
Rating: ****
Website: http://www.hudsonsonthebend.com/

Dishes Reviewed:
•    Pecan wood smoked Rib Eye with crispy leeks, gaujillo sauce, spiked with    pablono horse radish crema.
•   Venison Osso Bucco.
•    Pecan crusted Snapper with Lemon Beuree blanc sauce served with corn bread pudding.
•     Hot and crunchy Ruby Trout atop mango jalapeno aioli topped with ancho paint.
•    Open fire grilled  Prime tenderloin Beef topped with grilled Lobster tail and finished with a jalapeno hollaindaise.
•    Smoked Shrimp Quesdilla with goat cheese, pickled onions,avocado and mango pico
•    Venison Tartlet with mango sauce
•    Tossed greens , sweet and spicy almonds, with marinated tomatillos and  roasted pablano dressing.
•    Crème Brulee trio  of  vanilla, chocolate and cappuccino
•    Wild turtle, a Caramel Pecan pie dipped in  Belgian Chocolate