On Valentine's Day, one celebrates love and relationships.  Hence we go out for lunch or dinner by spending time and food together. Over the years to skip long waiting times in restaurants,  we prefer eating lunch out and a fancy dinner at home in the evening. But ironically Hopdoddy is one place where you have a waiting line always. We must have driven different times of the day in SOCO, Austin and always seen a long line in front of that Hopdoddy location!

Since we had work in north Austin area that morning, we decided to eat  lunch at their Anderson and Burnet location.  Our timing was right since there was a smaller line luckily, (like I said earlier,  this place is so popular, there is always a line).
The place is known for its gourmet, hormone and antibiotic free Black Angus beef burgers, their creative variations of burgers, and their fresh and all natural ingredients. The burger options are very wide.  Besides beef burgers, they provide, lamb, ahi-tuna, turkey, and vegetarian burgers.
While we were in the line, the hostess, provided us menus  to browse.  Every burger looked enticing  but  we were  interested in  either El Diablo-Angus Beef, Pepper Jack, Carmelized Onions, Habanero and Serrano Chiles, Salsa Roja,  Chipotle Mayo;Classic– Angus Beef, Red Leaf Lettuce, White Onion, Ripe Beef Steak Tomato, Sassy Sauce   Classic Cheese;Greek burger-Lamb, Feta Cheese, Arugula, Pickled Red Onions, Tomato, Cucumber, Tzatziki Sauce;  or Ahi Tuna burger-Sushi-Grade Tuna, Sprouts, Teriyaki, Honey Wasabi, Nori Chips, Pickled Ginger, Mayo.  Our line had some regulars, who were suggesting their favorite's burgers here too.
While we headed to the kitchen and counter, we were assigned to a table by the hostess and given a number. After we ordered our choices we could seat ourselves to that tagged table and our order was delivered to us.
The restaurant's  décor and ambience is modern and open with tall ceilings. Hopdoddy  has a bar + burger concept, hence there is a bar with  bar seating  in the center of the restaurant , surrounded by individual table seating and even outdoor seating.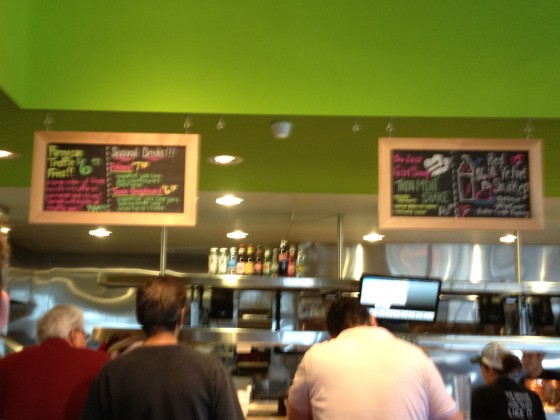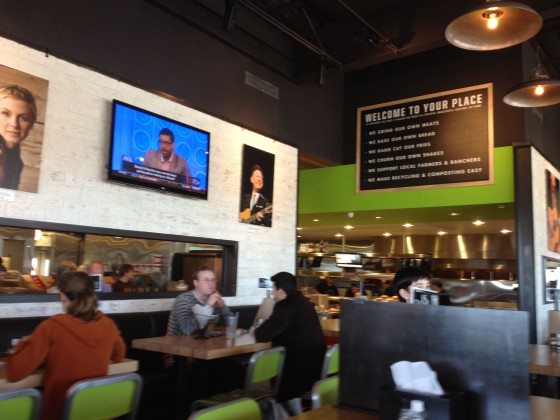 Our burgers arrived in decent time. We had picked the Diablo and the Classic Burger with Kennebec Potato fries and a Vanilla Shake.  We split the burgers with a steak knife so we could taste both of them.
The burgers were succulent and delicious in freshly baked buns. The toppings of serano and habenaro on the El Diablo burger gave a hot kick in every bite. The toppings in the classic too were fresh, crisp and added to the marvelous meaty patty making it one excellent juicy burger.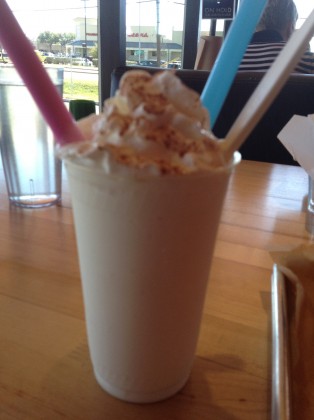 The fries were hand cut fresh from kenebec potatoes. They were good but would have liked it crispier. The vanilla shake was excellent and thoughtfully there was a pink and blue straws tucked into it;)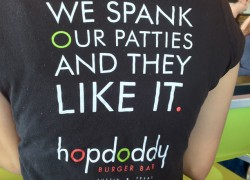 Just their SOCO location itself apparently sells 1000 burgers each day at average. It's not a surprise why, with their creative and delicious options of burgers, catering to every audience.
We had a great afternoon in this happening burger joint and  would love to go again with our kids  and try out Hopdoddys other burgers too.
Cuisine:  Burgers
Price Range: Average
Rating: ****
Website:  http://www.hopdoddy.com/
Location: Anderson and Burnet
2438 A West Anderson, Austin, Texas 78757
(512) 467-2337
Dishes Reviewed:
•    El Diablo-Angus Beef Burger with  Pepper Jack, Carmelized Onions, Habanero and Serrano Chiles, Salsa Roja and  Chipotle Mayo
•    Classic- Angus Beef Burger with  Red Leaf Lettuce, White Onion, Ripe Beef Steak Tomato, Sassy Sauce and  Classic Cheese
•    Kennebec Potato Fries
•    Vanilla Shake