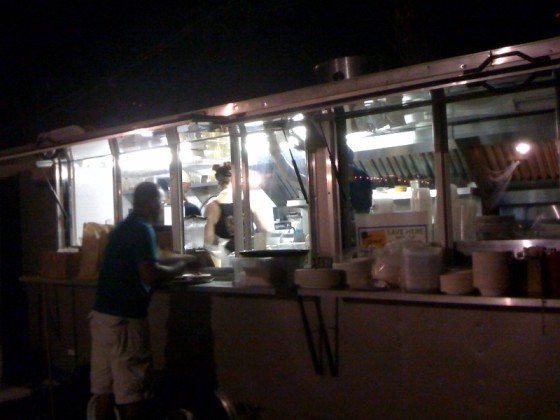 Graj Mahal is an Indian  outdoor  trailer eatery. It has a witty name, yummy food and a downtown location. Hence it's got popular  due to word of mouth advertising despite not having a  working website, disorganized service, unclear communication and  confusing menu format.
Started by Anthony, of  Indian origin, and his Austinite  wife Sidney,  Graj Mahal operates in a trailer where the  food is cooked, and served to customers in an  outdoor seating  under a  tent with tables and chairs.  Following a popular downtown trend of trailer restaurants GRaj Mahal offers rustic ambience with a tent, white curtains which billow in the wind, patio furniture, trash to treasure made art, sculptures on old bikes… adding to the unique look.
We were in the downtown area few days back, dropping by on a birthday bash on the Pfluger Bridge on Lake Austin, hence decided to check out  Graj mahal, having heard about its good food from friends. To get a parking in this area was not easy, we had to go around couple of times till we found a good spot.  The waiting was long; we sat in an old horse wagon while some of us stood waiting to get our turn. This evening there seemed to have less waiting staff and hence no one communicated where one had to add ones name to a waiting list or seat oneself henceforth.  Finally when we were seated, we were served by a very friendly waitress who also happened to be the owner's daughter.
We were ready to order after the  long waiting time. The menu format was little confusing though they try to separate cream base curries with non cream base and strictly vegetarian from meat dishes. For appetizers we wanted to order the curried lamb samosa, but being told they have run out of it, we had to compromise with the potato samosa. The samosas were freshly fried and came with mint and tamrind chutneys.
For the drinks we ordered some mango lassis and rose lassis. Though lassi's are a good balance for  the the spicy  food we ordered, we  didn't like it so much since the yogurt  was a little sour hence making the lassi's less sweeter.
For the main entrée's we ate Roghan Josh with Lamb, Dal Makhani,   Tandoori kabab -Beef Tikka, Chole Masala, garlic coated Naan and rice.  The Roghan Josh curry which has a yogurt base with lamb was exceptional. The Dal Makhani and Beef tikka also were delicious and well made, while the garlic coated Naan was very scrumptious.
Even though it had got pretty late we decided to try the Indian Beignet for dessert. It did take a long time to come, but they were sweet and luscious and came with warm honey on the side. It was a sweet moment.
We enjoyed our meal though the seating was not the best of comfort due to pleasant weather this evening. The food was served in disposable paper plates. The service was predictably slow to cater to so many tables cooking from one single trailer!  But surprisingly the prices are pretty high to eat food   cooked in a trailer! The unique selling proposition of this place is of course yummy food.
Cuisine: Indian
Price Range: Expensive
Rating: ***
Website: In the works.
Location: 91 Red River  In the back yard,  Austin, TX 78701; phone: 512-480-2255
Dishes Reviewed:
    Potato Samosa
    Rose Lassi
    Mango Lassi
    Rogan Josh
    Dal Makhani
    Chana Masala
    Garlic coated Naan
    Tandoori Kebab- Beef Tikka
    Indian Beignet