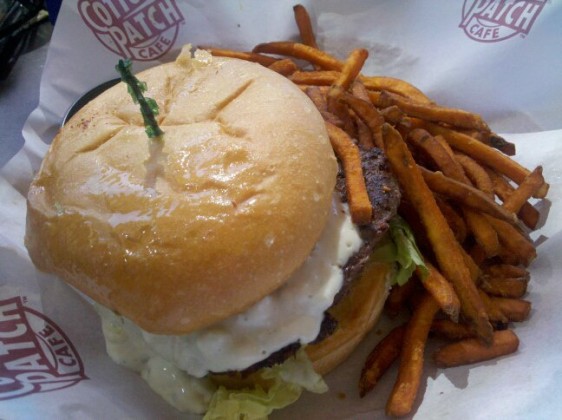 Thanks to my daughters Band UIL concert and sight reading competition I enjoyed having lunch at  Georgetown's Cotton Patch Café. Cotton Patch apparently has about 37 locations across Texas and New Mexico but the Georgetown location is nearest one to Austin. So if you are that side of town, this place offers a wide array on the menu with grilled options like angus beef burgers, steaks, seafood, chicken; deep fried seafood combos; traditional favorites like chicken fried steaks, meatloaf;  and soups and salads.
The ambience of the restaurant is good with indoor booth seating and large patio with outdoor seating. The outdoor seating was best on a perfect spring day to seat about 30 to 35 of students, teachers and parent volunteers.  The middle school band after competing in the UIL band competition were all excited to dine together at the restaurant involving  ordering and paying independently. The restaurant manager and the staff were very cooperative and friendly and offered an excellent dining experience.
The best part of the experience was of course the food. Because of the great choice it offered, the middle school kids tried out different options from the menu and each of them was happy with their lunch. I had checked the menu ahead online and was interested in trying out their fresh Angus beef steakhouse Burger for myself.  They had many options too among burgers but I chose the Red Hot Blue Cheese Burger, which was topped with blue cheese crumbles, blue cheese dressing, jalapeños, lettuce and tomatoes.  The burger comes with unlimited french fries or a cup of soup, but one had the option of upgrading it with sweet potato fries or fruit for a dollar extra. I wanted to try their sweet potato fries since it's not offered in many restaurants and was curious to try it after having seen Tyler Florence make sweet potato chips on Food Network the other day.
The Red Hot Blue Cheese Burger and the sweet potato fries were amazingly good. I was extremely happy with my lunch and would highly recommend it.  My daughter had ordered the fried shrimp basket which offered deep-fried Gulf Coast-style shrimp, served with crispy fries and hushpuppies. She too enjoyed her lunch thoroughly accompanied by a root beer float besides all her other friends and classmates.
The waiting staff was commendable taking care of refilling the iced tea, soda's and water inspite of us being such a large group.  The outdoor patio seating on a beautiful spring day was pleasant; the food was delicious and the total experience excellent.
Cuisine:  Texan/ American
Price Range:  Average
Ambience: Kid friendly
Rating: ****
Website: http://www.cottonpatch.com/main/index.php 
Location: 1021 W University Ave, Georgetown, TX 78628
(512) 869-3400
Food Reviewed:
   Red Hot Blue Cheese Burger
   Sweet Potato Fries
   Fried Shrimp Basket
   Root Beer Float
   Iced Tea