Chai - A Cup of Tea
Chai or Tea is the classic Indian warm beverage made with tea leaves, milk and spices. It's a great pick me up drink, with lower content of caffeine than coffee, while giving an instant boost of energy with spices like cinnamon, cardamom and ginger.
Author:
Birjis Adeni Rashed
Recipe type:
Drinks and Beverages
Ingredients
2 cups water
½ cup whole milk
4 cardamom seeds
1 inch cinnamon stick
¼ tsp minced fresh ginger
2 tsp black tea leaves
Sugar – to taste
Instructions
Time: 10-15 min
Serves-2
In a saucepan when the water starts to warm add the cinnamon stick, ginger, and 2 of the cardamom pods. Bring the water to boil and add the tea leaves. I use brands like Brooke bond Red Label, Taj Mahal Tea and Brooke Bond Natural Care.
Let the tea simmer a little before you add milk. After adding the milk, let the tea simmer on a low flame.
Lastly take out the seeds from two cardamom pods and crush the seeds into powder using a mortor and pestle and add to the tea. Close the saucepan with a lid of the pan for couple of minutes for the cardamom powder to get infused into the tea.
Remove from the stove and strain the tea in to the cups. Add a spoon of sugar in each cup or to taste before serving.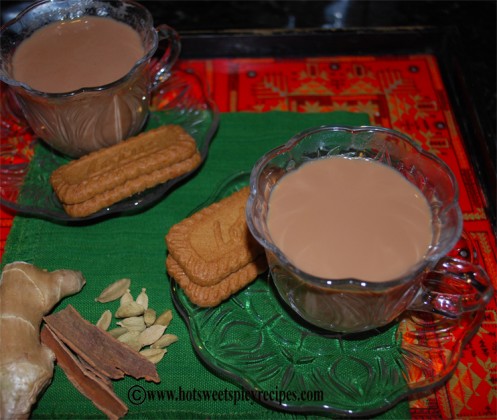 Masala Tea- For making Masala Tea, Additional ingredients like cinnamon, nutmeg, star anise, black pepper, fennel seeds etc are added to the above ingredients of the recipe. But the art of tea has its variations and the kind of ingredients added changes its taste accordingly.
 Herbal Tea-For cold winter days, I use one spoon of black tea leaves and once spoon of the black tea with herbs for making two cups of herbal tea. This makes the tea strong yet infused with the herbs which is good for cold. The brand Brooke Bond Natural Care has the herbs like holy basil/Tulsi, Ashwagandah, Mulethi/Licorice, cardamom and dry ginger added to the tea leaves. But if you have holy basil growing in your back yard, dry a few leaves and add it to your tea for a good herbal tea.
Chocolate Flavored Tea- This is another interesting flavor in tea which is popular in the part of the world I come from-Hyderabad, India. The trick to making this is use the above recipe but in the ingredients, I have a small change. I use one and half spoons of black tea with one and half spoons of Lasa-Lamsa Tea leaves. This makes a good strong tea with the chocolate flavor infused to make a delicious cup of tea!