We were downtown one weekend afternoon and decided to stop for some coffee to rejuvenate our spirits.  We knew Café Medici has a couple of locations downtown and went to nearest location in West Lynn.   We have often wondered when passing a Café medici how strange their logo strikes a resemblance to the drawing of Jawaharlal Lal Nehru with his cap. Well its not the former Indian prime minister, but  a medicine man  drinking coffee!
The west lynn location is in an old building with a small three room place. The coffee shop has a few stone chairs and tables outside on the patio which look cool but may not be comfortable. Their limited space and simple chairs may not look encouraging to customers lounging themselves, but there were many with laptops working with a cups of coffee and wifi, some cyclists who  had stopped by to energize with coffee; and people like us  with kids seeking caffeine  and their  fresh baked goodies.
We ordered a Cappuccino and a Macchiato while the kids ordered steamed milk and a yummy large  carrot and raisin muffin.   Though I ordered the Macchiato which is espresso topped with  small amount of steamed milk, it was too strong for me hence I switched it  with my  spouse's cappuccino.  Since  he enjoys  more stronger coffee than I do,  both of us were extremely happy with the cappuccino and macchiato.  The Cappuccino is a coffee prepared with espresso, milk and steamed foam and with  café medici's  artistic reputation  for  latte art, my cup had a  beautiful leaf pattern in foam.  So the cappuccino was  visually and tastefully  excellent.  The machchiato too had  beautiful latte art  ofcourse,  since  café medici's  artistic barristas  have  known to have won awards in latte art!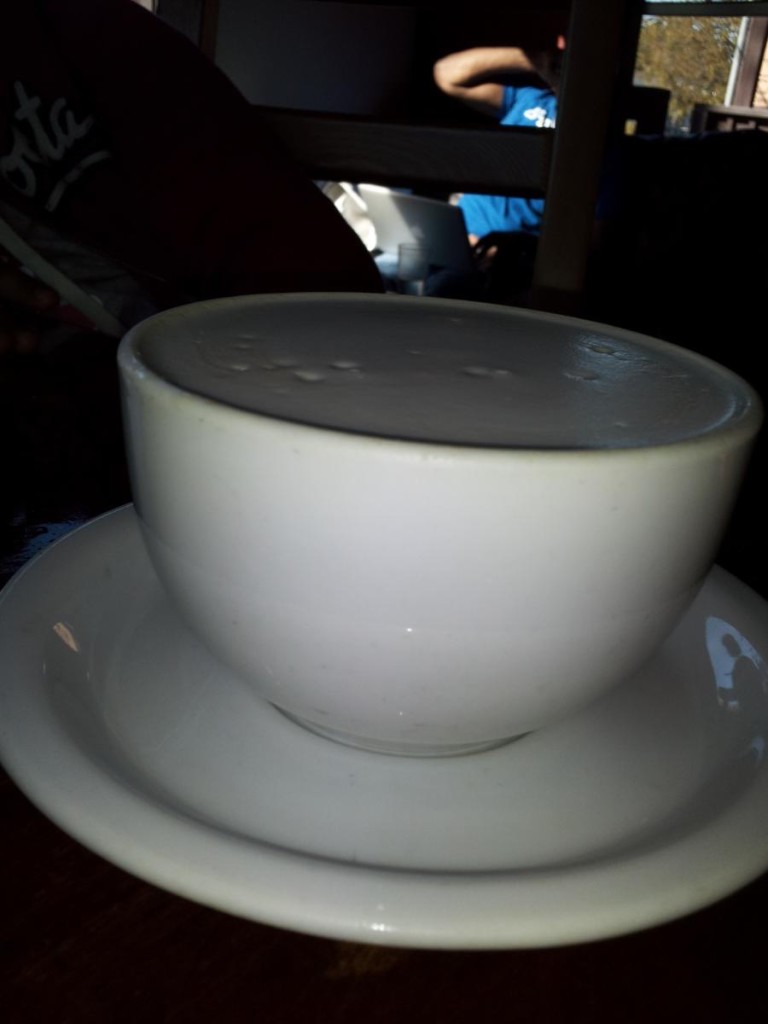 The kids loved the steamed milk and instantly decided this steamed milk was so much more tastier than the one at  other coffee shops, starbucks or  even mozarts café.  The muffin was so good  all  our fingers  were nibbling from it.
Truly this place is known for its great coffee not necessarily their ambiance and comfortable seating like Mozart's USP.  But the coffee was worth a stop to rejuvenate the spirits.
Cuisine:  Coffee
Rating: ***.5
Website: http://caffemedici.com/
Location: 1101 West Lynn,  Austin, Texas 78703, 512-524-5049
 Foods Reviewed:
Cappucino,
Macchiato
Steamed milk
Carrot Cake