Amy's Ice cream is a popular destination among Austinites  and an Austin must. It is a privately owned chain of ice cream stores in Austin and around Texas and the stores are open till midnight and even till 1 a.m.  over the weekends.
This weekend,  returning  back from Zilker Park after watching Shakespeare 's "Winters Tale" performed in the open air theatre, we drove past of Amy's 6th street store and noticed a crowd still waiting to be served. This triggered our taste buds too, so we made a quick moo turn for some ice cream;)
We have enjoyed Amy's many times but mostly in the 6th street and their Arboretum locations. The 6th street has a lot of colorful downtown crowd till late hours and is a very popular location.  All the locations have standard seven flavors and extra seven new flavors   are rotated around to keep things interesting always. Their flavor boards (also on their websites by location)  informs the new flavors regularly.
The new flavors this weekend were
 CAPPUCINO
HONEY HABANERO
AMERICAN AS
SILK CHOCOLATE
LEMON CUSTARD
SHINER *
WHITE LIGHTNING *
Standards flavors are – Mexican Vanilla, Just Vanilla, Sweet Cream, Belgian Chocolate, Dark Chocolate, White Chocolate and Coffee!
There is also  fruit ice and frozen yogurt and different types of crush in options for your ice cream.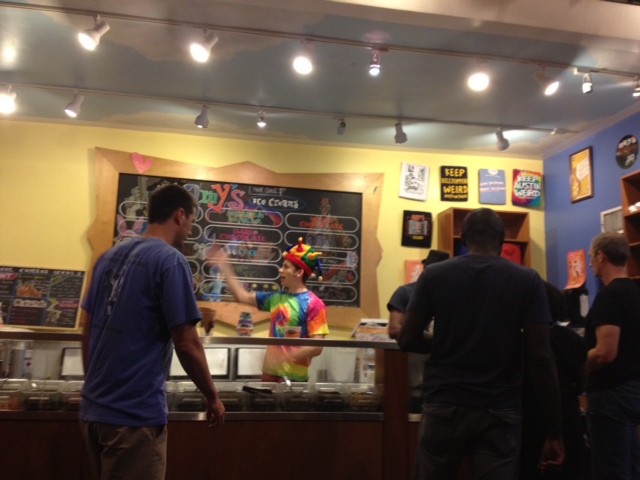 The ambiance at Amy's is lively with colorful art and Austin weird shirts, and of course the  employees  are  playing with  ice cream,  doing tricks before serving you. The audience is here for the ice cream , the entertainment and the being part of the Austin cool crowd getting cooler by the scoop;)
Being a large group we had many flavors amongst us. We ordered the Honey Habanero which has a taste of both honey and a hot kick of habanero pickles; The white chocolate , Mexican vanilla with pecan pralines and hot fudge, just vanilla and  Belgian chocolate with Oreos. All the ice creams were yum and we had cool ending to a fun evening.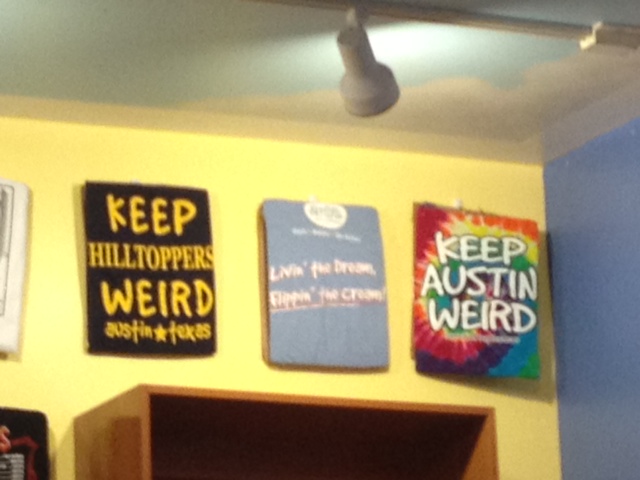 Cuisine:  Ice cream
Rating: ****
Website:  http://www.amysicecreams.com/
Location: 6th Street
1012 W. 6th St, Austin, TX 78703
(512) 480-0673
 Foods Reviewed:
Honey Habenero .
White chocolate  
Mexican vanilla with pecan pralines and hot fudge
Just vanilla
 Belgian chocolate with Oreos.
FYI- Check out Amy's  popular event on June 5,2013 – their 'Trick Olympics'.- Its their cream slingin', high flying, ice cream tossing, spade juggling extravaganza. http://www.amysicecreams.com/latest-scoop/2013/5/20/9th-annual-trick-olympics.html